After much work, Pit is finished! I think this plushie took the longest to make out of any I've done so far; the hair and the toga were both a pain!
This is the character: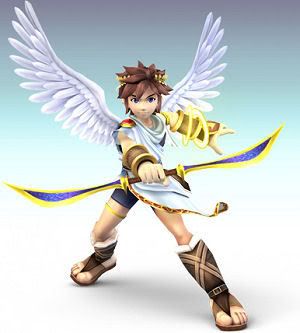 And this is the plushie:
I'm really happy with how he turned out- the wings are
awesome
and look like feathers and can bend like real wings since I crocheted pipe cleaners into them. After much work, the toga actually looks like his toga! (That was a pain to make- I'd never tried to make a toga before, and I swear the design can't be duplicated in real life) And you can't see in the pictures since it's on the back of his hand under the wings, but I made his gauntlet/bracer for his hand and it looks really good!
There are only a few things I'm not so happy with:
-The eyes- they're not large enough, but they were the biggest plushie eyes I had. Darn Pit and his freakishly large eyes! ;) (And no, they're still not crosseyed or whatever- I think the shape of his head makes them look funny from straight on.)
-The bow- it was the perfect shape before I stuck it in the oven, but it got bent too far when I slid it in to cook. Also, I sewed the bow onto the wrong hand (I totally didn't realize Pit was left handed and stuck it in the hand that I hold a bow). That's easy enough to fix, though- I'll move it to the other hand later.
-His laurels/hair- I didn't have enough gold pipe cleaners to make them exactly right (I'm pretty sure his is just one long one that loops behind his head), so I had to give him two smaller ones. And his hair is too long. Maybe he's been growing it? ;)
All in all, though, I think he came out nicely and I'm glad I made him for myself because there is no way I'd make another one (not unless I'd get paid a lot for it, anyway!). I love Pit dearly, but there is just so much detail to include on him!
I'm so plushied out now, but I still have to make a bunch more; I'm going to get started on the Sweet Charity one today- fortunately that character doesn't have as much detail! Then I have to make a Death and a parrot for Care for her birthday in August, I still want a Sheik for myself, and I have a few more I need to do for Christmas presents.