I haven't been posting the book reviews here that I wrote for the Early Reviewer books from LibraryThing (yeah yeah, forgetfulness, short attention span, busy, etc), but since I
loved
the last book I got and I'm using this blog for my "52 books in 52 weeks" challenge, I figured I should probably start posting the reviews here again. :) Honestly, I
adored
this book, and as the first book I read for the "52 books", it set the bar
extremely
high. So high that I'm skipping over the fantasy books on my "to read" list because none of them can possibly compare, so I'm just going to go in a different direction for the next book I read (probably something classic, like Chaucer or Shakespeare).
Anyway, here's my review of
The Warded Man
by Peter Brett. I didn't go into the detail about the plot or anything because I really don't like giving anything away in book reviews. If you'd like to read a short description
here's a link to the Amazon page
, and since I just stumbled across it while looking for that Amazon link,
here's a link to the author's website
. (lol! He has a D&D character sheet of himself on there! Okay, this man officially
rocks
! *cough* I mean, I've certainly never given myself D&D stats. Certainly.)
Onto the review!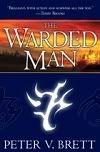 This book was honestly amazing. While I love fantasy stories, I'll admit that a lot of the time they can formulaic, overdone, or childish. Not so with this book!
The Warded Man
by Peter Brett is unique, intelligent, and never gets boring or feels like it is dragging along. The characters are developed, well-rounded, and believable, the plot and world are unique and creative (all too uncommon in the fantasy genre!), and the pacing of the story is great. Some stories can get tedious or feel like something is missing when they span over a decade in one book, but Brett did a great job keeping the pace and making it so the reader wasn't left confused or feeling like something was missing with those gaps. Marking the start of each chapter with the year certainly helped with that, and I also liked the little icon representing each character that appears at the start of the chapters.
The only slightly negative feedback I can give about this book is that I would have loved to hear more about the characters in those time gaps, but that's not so much negative as the book being so good that I wanted to read more! Hands down, this is the best book- fantasy or otherwise- that I have read in a very long time. I will heartily recommend this book to anyone who loves fantasy, and probably even to those who don't; it's that good! I'm going to be anxiously awaiting the next book in the series.
(Psst: More reviews from other LibraryThing members can be found on the book's
LibraryThing
page.)