First, can I complain about how the stupid weather can't decide whether to be cold or warm (well, less cold) or snow or be nice? The herniated disc in my back is
not
happy about the ups and downs of the weather this year. Anyone have a time machine handy so I can jump to April? Ah well, at least I'm making headway in the "52 books" challenge; I've already finished four and am working on two others.
Anyway, the main point of this update is to post pictures of my formal Whites (my "Heralds of Valdemar" costume)- someone on Ravelry was wondering what it looked like. I still don't have a picture of me wearing it, but at least now I have pictures of the parts. :) I've been putting this together for
years
now; I would have tried to finish it sooner, but I don't really want to wear it before my wedding, since as well as being a cosplay costume, it's also my wedding dress (if I'm lucky and we can find the cash, I'll be able to get married this year; otherwise, it'll probably be next year). I'm just terrified of getting it dirty before it gets a chance to be used for a wedding dress. Me and white clothing don't do well together.
Oh, and it may not look it, but all the blues do match.
Here's the dress and sleeves, with my cat sneaking into the picture: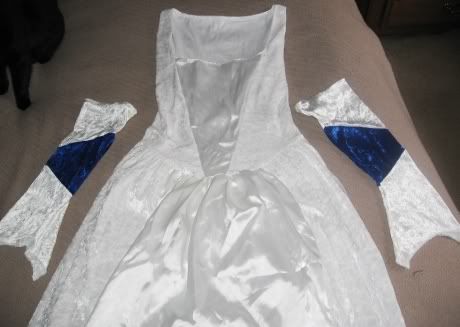 Both parts came from
this awesome clothing site
. (Seriously, I have a whole bunch of clothes from there!) The sleeves are
these
in white and blue crushed velvet. The dress is
this one
in white velvet and satin and with a white ribbon lacing the back.
This is the winter cloak: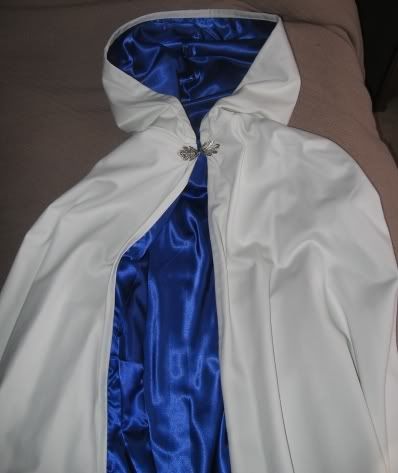 When Josh bought it for me, I had no idea it would be so heavy! It is definitely a
winter
cloak, so it'll be great for October at the Renfaire, but otherwise it's not so useful (this cloak has to be at least 20 pounds- it's like carrying a good sized dog on my shoulders, lol). I'm going to make or buy a white crushed velvet cloak for summer/fall, but I don't have the money for that yet.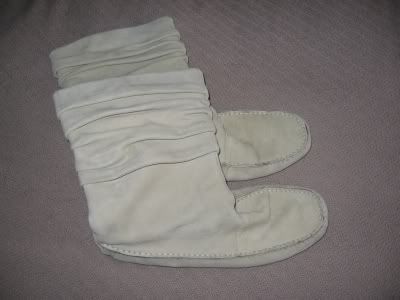 These are the boots- they're off-white, but the closest thing I could come to accurate and that would match the regular/working Whites costume I've been planning forever (maybe I'll be able to afford to start that one later this year).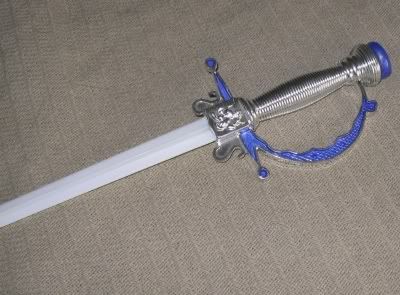 My (rather crappy) sword. It's just a toy plastic one that I painted some blue on and made a polymer clay "jewel" for the pommel. I have to figure out what to do with the scabbard, though; that's black and really doesn't match. Maybe I'll just ignore it and stick the sword down through my belt.
And speaking of the belt:
I posted this picture before, but now you can see it more in context. :) It's the chainmaille belt that a friend started and I finished.
This is the purse I crocheted to go with the costume (can't go to the faire or something without a bag!). I think I may line it, but I haven't had a chance to do that yet. The darker blue parts of the yarn match the rest of the costume.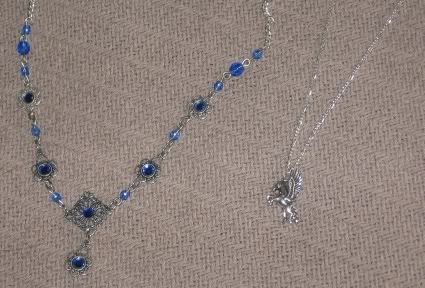 This is the circlet and necklace that go with it- I got the circlet off eBay, I think, and I found the necklace at the Renfaire.
Here's a closeup of the necklace: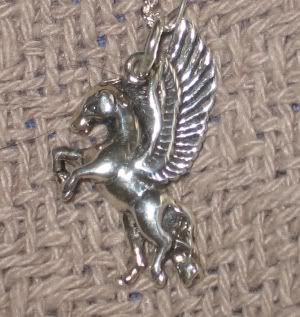 I'm so lucky I found this- it looks
exactly
like the symbol of Valdemar.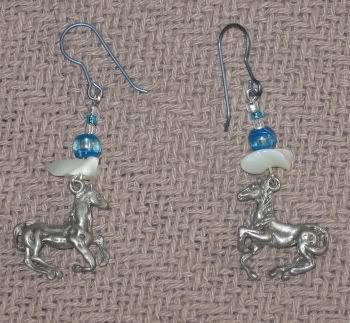 And here are the rather simple earrings I made- they're pewter horse charms, mother of pearl chips, and various glass beads hanging from blue ear wires. I think I may also make blue chain earrings to hang from my cartilages to the upper lobe piercings, but I haven't done those yet.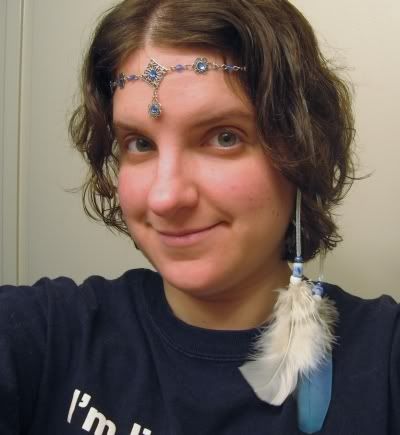 And I also made a Tayledras style hair thing (like the brown and orange one I made last summer), only using blue and white feathers and beads, and a silvery white ribbon. I wanted to use white suede cord, but it was too wide to string my beads through. It clips into my hair with a blue hairclip, but you can't see that in the picture. Right now my hair is too short to look good with the hair thing, but by the time I wear the costume next, it'll be a lot longer.
And please pay no attention to the crappy picture of me- I just got out of the shower so my hair is damp and scraggly and I'm wearing a very unfeminine baggy tshirt, lol.
So yeah, long update with lots of pictures, but I wanted to share. :)