Here's the review of the latest book I received from the LibraryThing Early Reviewer program (well, I won a January book, but I haven't gotten it yet). This book is
According to Their Deeds
by Paul Robertson.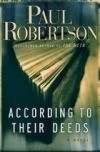 The copy of "According to Their Deeds" that I received from the LibraryThing Early Reviewers program was an unedited advance reading copy, so I'm going to assume that all the grammatical errors and the like are going to be fixed when the official copy of the book is released. That said, it drove my English major self crazy and I kept wanting to attack my copy with a pen and some Wite-Out, but that's just a quirk of mine and has nothing to do with the quality of the story.
Speaking of the quality of the story, I thought it was creative and well written. I really enjoyed the fact that it took place around a rare books shop and its dealer, and I thought it was great that Robertson made quips and references to the classics throughout the story, usually as told through the main character, Charles (the aforementioned book dealer), and connected those literature references to the storyline. I think that giving Charles those lines helped give his character substance and personality, and it was intellectually amusing, in a punny way. The other characters weren't nearly as developed, though; for instance, I would have liked to have seen more depth given to the wife, who we see only through Charles' eyes as the epitome of perfect, and Angelo, their employee and ward. Angelo is an interesting character, so I wish that Robertson had gone into more detail about him; even at the end of the story, he still seems like something of a mystery.
As for the story itself, I enjoyed the plot and the style that the book was written in; there was a lot of dialogue, which I felt suited the wittiness and intelligence of the main character, and the intelligence of most of the characters, for that matter. I would have liked to see a little bit more detail given, though, especially in regards to the secondary characters, who could have been a bit more fleshed out. Overall, though, this was a good, enjoyable read, and I'll recommend it to those who like mysteries- especially if they also know something about literature, since that knowledge makes those puns that much better.
I'll give this 4 stars out of 5- even though it had some things that could have been improved, it's great as it is. :) To see more reviews from LibraryThing members, go
here
.