My sister was around today (she goes out a lot with friends and the boyfriend)
and
it was sunny all day so I was finally able to get some pictures that I've been needing! (Namely sleeves, some necklaces, and a pair of dreadfalls.) I'll be listing those this week, but right now I wanted to share a few things. There will be lots of pictures in this post!
First, a new pair of earrings that I listed today:
Okay, not really "new" because I had made them probably a year ago and forgotten about them until I found them in my finished bin a few weeks ago, but they're new because I hadn't photographed or listed them yet. They're in both my
Etsy shop
and my
Artfire shop
.
And now onto some presents I made!
Since my sister asked (and was awesome for modeling for me today), I made her an anklet like the one I made for my mom that I posted yesterday. She wanted the same style, only in pink (my sister is as obsessed with pink as I am with green. Seriously, it's weird, lol) and she picked out a heart clasp for it.
Sorry the picture quality isn't so great- by then it was getting dark and I didn't feel like staging something I wasn't going to list. Anyway, I made this anklet for my grandmother who wanted one of my beachy type ones in neutral colors and with small beads. Hopefully this is what she'll want (my sister's the one modeling it). If it's too hard for her to tie or something, I'll keep this for myself or sell, and make her a chain one with a toggle clasp. :)
And now onto much animal cuteness! The dog is constantly annoying the cat, which means the cat is constantly chasing the dog (which is what the dog wants, of course, but the cat doesn't realize that). I got some pictures of the antics tonight: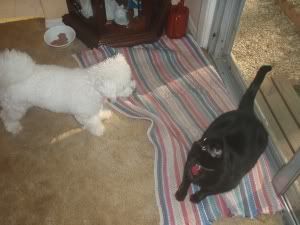 Chloe is starting to get all up in Clara's face...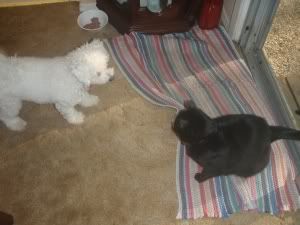 Clara's glaring at her (and growling- I never knew cats made these kinds of noises until I put the cat in a house with a dog) now...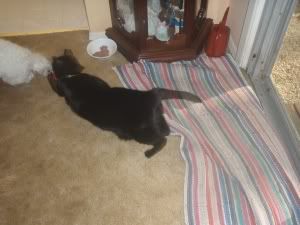 And they're off! I think at this point Clara chased the dog into the wall. LOL!
After being chased, my sister picked up the dog for a picture. The dog looks quite happy about that.
The cat however... not so much. She always looks terrified in pictures- it's hilarious! It probably doesn't help that the dog was jumping up and trying to get the cat at this point. XD
And that's all the cute animal pictures I have for you today. I'm sure I'll get lots more later- I'm always taking pictures of those two. ;) And speaking of pictures, I used my sister's
digital camera
today, and it was awesome! Some of the pictures were somewhat washed out from the sun, but I think I figured out how to adjust that. The camera has extreme macro settings, so it's a good art camera. I'm going to ask for it for my birthday, I think- it's only about $160, so hopefully that's in the price range for my fiancé to buy me. I just
really
need a camera of my own- having to borrow my dad's or sister's is a real pain. The only downside of that camera is that it doesn't come in green (even my iPod is green, lol), but it comes in blue, so that's cool. Needless to say, my sister's is pink. ;)
Oh! And before I forget, one of my EtsyFAST teammates
featured me on her blog yesterday
! Thanks, Sarabee! (Her Etsy shop is
here
- you should visit it!) Except I realized too late that I forgot to mention one of my favorite street teams in the interview! (I'm in six- can I be blamed? I feel so guilty, though!) I replied to the post with ABST, but it didn't take away the guilt, lol.