First, don't forget about my big birthday sale, freebie giveaway, and drawing to win a custom item of your choice that I mentioned in my
last post
! You don't even have to buy anything to enter that drawing- just spread word about my sale and giveaway and let me know where you linked to it. :)
Next, I wanted to wish everyone a happy
Fairy Day
!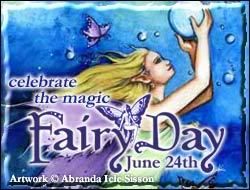 Although I suppose for me most days are Fairy Days. ;) I'm going to spend today doing what I often do- crochet a faerie plushie (in this case, a faerie Black Queen from chess).
And third, I wanted to share my latest set of runes:
These are my "Tropical Breeze" runes- these are the ones that I made to be Air but they ended up morphing into Water as I was making them (the yellow clay really mixed with the blue to make them bluegreenish).
These are
in my Artfire shop
but are actually reserved for my Plurk friend
Elaine/Tollykit
. If you have your heart set on them, though, I could definitely make another set! (They wouldn't be
exactly
the same colors and swirls, though, of course, since they're handmade.)