I'm painfully behind with this book review, I know. I won the book back in February, although I did just finish it a week or two ago. Surprisingly, I just haven't been reading much lately (art and my shops have kinda taken over, lol). Anyway, the book this time is
Hand of Isis
by Jo Graham.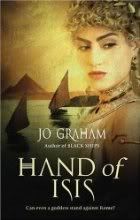 I haven't had the opportunity to read much historical fiction (it's a genre I'd like to get into), but I am interested in ancient Egypt, so I was happy when I won
Hand of Isis
through the LibraryThing Early Reviewers program. And let me just say, I wasn't disappointed! This was a very well-written, creative story with interesting characters and a solid plot. I like the way Graham wrote the characters from childhood to adulthood, and I thought the scenes of the Underworld were a neat idea and well spaced throughout the book. I also enjoyed reading about historical characters in a way that made them seem very human, and the idea of telling the story through the eyes of a relatively unimportant character was an interesting approach. The fact that the narrator was an interesting (I liked that she was able to have prophetic dreams and flashes- it added to her character) really made the story great.
The are a few things I didn't like, or thought could have been better edited. For one, one of the main characters, Iras, doesn't get nearly as much attention as her two sisters, and by the time the characters are adults, is barely in the story. Cleopatra also ends up taking the backseat to the narrating character, Charmian, at that point, as well. I can see that Charmian is the narrator, so should get attention, but I think it would have been better if her sisters had been in the story as much when they were adults as when they were children, especially since they're still together most of the time. I didn't have much of a problem with the sex scenes; they were fairly short and not too frequent. I have rather mixed feelings on the reincarnation and past memories of the main character and a few others, though; on the one hand, I thought this was a cool idea, but on the other hand, it was kind of distracting at times. I mean, the book would have been fine with the characters just being who they were without past memories, and maybe would have left more room for current character development, which I would have liked.
All in all, though, I really enjoyed this book and will be looking for more by this author. I'll also recommend this book to anyone who enjoys historical fiction, especially when it comes to ancient history (I know I'm going to tell my friend who loves ancient Egypt about this book!).
I'll give this book 4 stars out of 5. :) To see more reviews from LibraryThing members, go
here
.