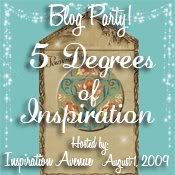 I'm joining in the
"Inspiration Blog Party"
hosted by the Inspiration Avenue team on Etsy. I'm not a member (ye gads, I'm already in seven teams; don't think I could add one more!) but this blog party looks like a lot of fun and the team looks really nice and creative. :D
Here are the five things that inspire me most: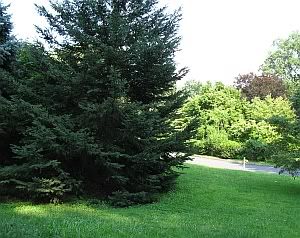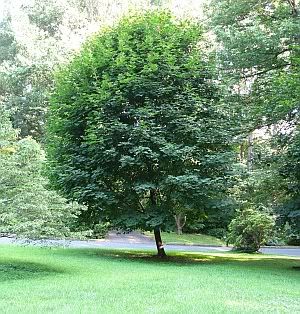 Nature
- I'm very much inspired by nature, mostly Earth and Water (forests/trees, and oceans, specifically). I spend most of the day outside, reading or working on art. Those pictures are my view from the front yard of my parents' house (I'm currently living with them)- this is the view I see whenever I'm crafting. :) The back yard is even more tree-filled and foresty, but it generally doesn't get as much light since it's under trees, so I sit in the front yard instead.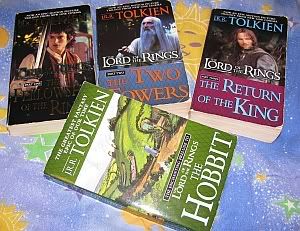 Lord of the Rings
- I'll admit to being obsessed with
Lord of the Rings
, and it's the main reason I'm so into fantasy. My dad read me
The Hobbit
when I was six and FotR soon after (I don't think I read TTT and RotK until I was a teen, though). Even my alias is LotR-related (half elf/half halfling daughter of the Elvenking-
here's
a drawing I did of her years and years ago. Call me a Thranduil fangirl if you must, but I've loved Mirkwood since I was six, lol), and I'll write some listings and things from the point of view of a Woodland Elfling/Elbit. Most of what I make is fantasy-related, and while mostly not directly related to LotR (I often go from mythology and general fantasy), LotR is always at the center of my crafty heart. :)
(I wanted to get a more dorky photo, but most of my LotR
hoard
collection is in storage.)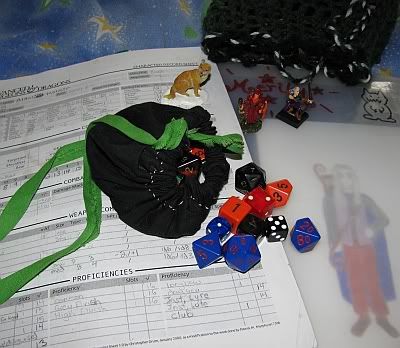 Dungeons and Dragons
- this is related to my LotR/fantasy inspiration, but I thought it deserved its own point because I tend to make a
lot
of D&D inspired things-
plushies
,
plushies
,
plushies
,
and more plushies
,
jewelry
... yeah, I'm into D&D. ;) My group hasn't been able to play in months, and I'm really missing it!
(That photo is of my D&D binder with a drawing of my old character in it, said character's character sheet, my pouch full of D&D things, my dice pouch, and some of my dice and figures. I forgot to include
the spell components
I made for my current Cleric, though.)
Friends, both in real life and on the internet
- my friends give me so many neat ideas of things to make! My best friend (she's on the right of the photo) requests some odd things that are fun to make (
like this dragon to stick down her bodice
), I'm always trying to think of neat dorky things to make my fiancé (like
the Goblins from his webcomic
,
this Pacman pillow
, and
Nintendo robot
for example), and even my online friends give me ideas (my FAE friend Julie has made me want to get into crocheting wire, for one). I also love my street teams and guilds- I love being able to talk to people who share my interests and are so friendly and willing to help everyone. Artists really are nice people! :)
And now that my sister asked if she was an inspiration, I'll include her- I do make a lot of pink things for her! ;)
(That picture is years old, but it's one of my favorites of me and my best friend at the Renfaire.)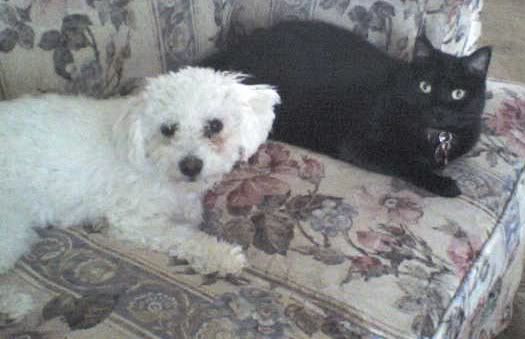 My pets
- okay, so only the kitty Clarabell is mine (the dogs belong to my parents), but I live with them and get daily love from Chloe and Clara (not so sure how friendly Daisy will be [she's the small puppy] since my parents just got her today). When you're upset or not feeling well (I'm that last one a lot), there's nothing better than a purring cat headbumping you or a puppy giving you kisses. :) At least, I can't think of anything better! I've made art
for the cat
and
based on her
. What can I say, I adore my cat!
(The first photo is Chloe and Clara, the second is Chloe and Daisy.)
I'm going to go grab some lunch now, but right after that I'm going to go see what inspires everyone else. :D