I haven't posted an art update in a while, huh? Books have kinda been taking over my blog, and I have another review queued up. I also got promoted from Honorary Witch to
member of the coven
, so I'll be posting more
Random Magic
stuff next week.
Now, though, I want to ramble about stuff I've been working on and listing.
~The green
elf wig
- well, I kinda gave up on this for now. It may still work, but I've put it on the back burner for now.
~Dolls, dolls, and more dolls: I have four, likely 6 custom plushies to make, 4 of which have to be done and to the person by Christmas. I'm not going to blog about the two I'm working on first until after Christmas, but I will say that the first one is well on its way- it's got a body and some pants. Tomorrow I'm going to do the sleeves, then start on the second doll in that commission so I can make the accessories for them at the same time. I'm kinda stressed out about these, but I think if I can do a little bit a day, I'll be fine. They don't take
that
long to make (a week, tops, for each one), but I'll admit to getting stressed out easily. I got some custom order inquiries this morning, but they're all for things that don't too long to make (earrings and ears this time), so I'm going to finish those today if the people are interested.
After these are done, I need to start working on Christmas presents, so probably not much new for my shop for a while. The good news is, I do have a bunch of items made a while ago that I still have to list.
Here are some of the most recently made and/or listed things:
These were part of a trade/sale with my FAE friend
Aquariann
. Neither photo shows how pretty the things turned out; the horns are a really shiny yellow-green with brownish gold spirals, but I mixed some glittery powder into the brown paint to make it a bit sparklier. The ears are also sparkly- you can sort of see in
this photo
that I used silvery lamé yarn in with the tan. While making them I couldn't help thinking just how much like rice crispy treats they looked, with the light tan and the shiny whitish bits. Or maybe I was just hungry, lol.
Yup, more cartilage chain earrings. I call this one "Queen of Hearts" because it just reminds me so much of the playing card (or hey, if someone were planning to dress as the character from
Alice in Wonderland
- it would work great with a costume like that). This can be found
here
on Etsy and
here
on Artfire.
And I'll mention this pair of earrings because they deserve love, too, but they're not available at the moment because they just sold and will be going off to a new home. :) I really like these, so will likely be making more like this.
Psst! Don't forget about my Halloween sale going on in my Artfire shop!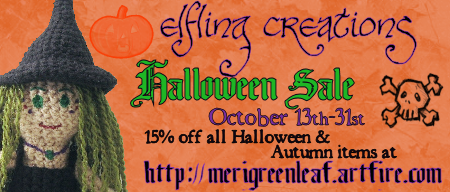 I'm pretty sure you still have time to get the items before Halloween if you're in the US since shipping usually only takes about three days to get there. And hey, a
lot
of my shop is in that sale- ears, jewelry, runes, waist cinchers (one of these days I'll have to get better pictures of those- they're really cute!), and bracers.