I finished two more books recently, but I'm only going to review the first now since this review got so long. ;) Both of these books star intelligent and interesting young females, so they were great to read back-to-back. Look for the second one soon. :)
Today's review is
Random Magic
by Sasha Soren, one of the books I got from the
LibraryThing
Early Reviewer program.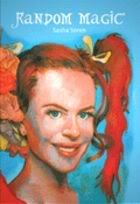 In a letter included with the book Soren said we shouldn't spill the beans about the package and things and I won't, but I do have to say that receiving this book
totally
made an otherwise feeling-icky weekend so much better! And I wasn't at all disappointed when I started reading it, either. ;)
This book is so witty and... well,
charming
.
I'll get to the downside first, to get that out of the way. I found the book to start and end a bit disjointed- don't get me wrong, most of the book is random and disjointed in a
good
way, but I just found the beginning and end to be a bit slow and disconnected; I think I would have preferred it if the book stayed more with the two main characters. I wanted to know more about them; I'm thinking because Soren did such a good job making them interesting! :) The only other slight problem I had with the book was a personal preference- at one point near the beginning the main characters visit vampires, and I think by now everyone knows my opinion about undead (needless to say, I skimmed a lot of those pages. Ugh, vampires
are overrated
so don't do it for me). I'll give Soren credit, though; she made those particular undead unique enough that I didn't flat out skip those pages like I would have otherwise (or give up on completely *cough*Twilight*cough*). To this author's credit, I think the other reason I kept reading those pages was because man, she can write! Even when it was a subject I wasn't interested in, I kept at it because the book was so enjoyable.
Anyway, to get on with the review, I found the rest of this book to be charming, interesting, and well-written. The author definitely has the skill to write something you don't want to put down (I don't think I put this book down the entire time I was reading it; I wanted to know what happened next!) and the creativity to write something utterly unique. The writing was witty and I loved all the random references throughout (I never did figure out the one in chapter 42, though. Can someone clue me in there? *puppy eyes* Apparently I am no good at anagrams, lol). The two main characters were great- Winnie is spunky, intelligent, and clever, and Henry is ... Henry. He's lovably
kind of stupid
oblivious, but he gets a
lot
of character development, so even though he's kind of pathetic, you don't mind and keep cheering him on.
I'm not going to go into details about the plot because I feel that spoils things, but I will say that the plot is engaging and fun and the cast of characters are just as well-written as the rest of the book (don't let my hatred of vampires stop you from reading this, please! In fact, feel free to ignore that part of my review as just one of my personal quirks). I've always been a fan of
Alice in Wonderland
, so I thought it was so neat that this story had that as a basis. The book also had mythological references and literary figures; I had to grin because those are two of my favorite things. This story isn't all a happy romp, of course, but that makes it even more interesting to see the characters' struggles and how they develop from them. Overall, though, this book is
fun
!
I will heartily recommend this book to anyone looking to read something new and entertaining; it's got friendship, love, strength, wit, adventure, magic, and a red feather. You can't go wrong with those things! I think it's a young adult book, but adults will love it, too. I know I did, and I suppose I count as an adult. ;) I'll give this 4 1/2 out of 5 stars.
(Psst: More reviews from other LibraryThing members can be [well, "will be"; at the moment there's only one other] found on the book's
LibraryThing
page.)