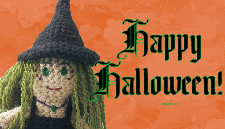 Happy Halloween and Samhain, everyone! Today's also my "new" anniversary (as in it used to be September 15th as the anniversary of when Josh and I started dating 7 years ago, but now it's Halloween- this is two years since he proposed. I love you, Joshy!). :) I'm going over to his (well, his parents' house) for dinner tonight and to watch our annual Charlie Brown Halloween; hopefully I'll be feeling a bit better. This ear infection has me feeling pretty icky.
I don't have a real art update post this week- I've been working on a custom order for dolls, but I'm not going to blog about that until after Christmas. The only other thing I've been working on is a few random bits for a Goblin costume. You, know, from
Goblins Like These
, specifically
Gork
. Yup, I'm a dork, but Josh was flattered that I wanted to dress like one of his characters. Like,
extremely
happy- it was so cute! And hey, it meant a use for the wig that didn't turn out right; I turned it into a grass skirt. Wee, I'm crafty! ;)
This is the costume I was going for: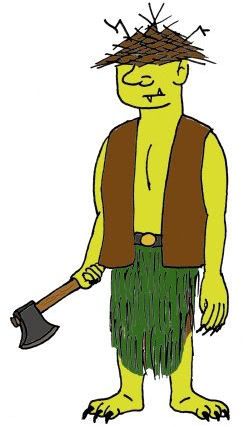 Here's what my quick (like worked on it for an hour or two) Gork costume looked like: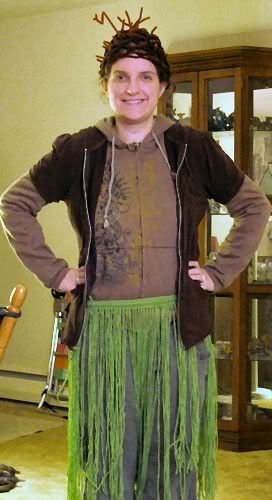 Yes yes, really crappy picture of me, but I wanted to get a picture of it anyway. I need to add a few more rows on the hat (don't want to completely cover my eyes, but the hat was lower until Josh added the pipecleaners) and a bunch more pipecleaners (to cover the gaps), and I also need to add more to the skirt to make it fuller. Someday I'll have a better costume, like with an accurate vest and maybe like a bodysuit thing in goblin color, but this worked for now. :)
And it was fun- we got to play the Goblins D&D game last night, so I was able to dress like Gork and play Gork, too. Yay for crazy goblin ambush commanders!
The other things I wanted to share were about last minute Halloween things. Today is the last day for the sale in
my Artfire shop
: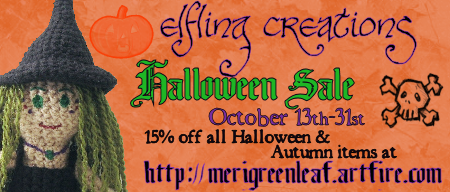 15% off everything (costume stuff, Halloween things, and autumn things) in the
"Halloween" category
of my shop- just enter the code HALLOWEEN09 when checking out.
And the other seasonal thing is the EAST (EarthPath Artisans Street Team) Harvest Treasure Hunt going on until the end of November- a new prize is awarded each week and a big prize pack will be given away in November. :)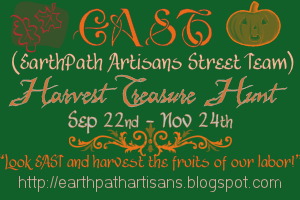 Please
enter this- we're not getting many people entering, so there's a good chance you'll win one of the weekly prizes or the big prize at the end!
Just go to the team blog
here
to read how to play- basically you just hunt through the participating shops for 5 Autumn items that have a little blurb in the description (hint- there are at least three of these in
my shop
), then reply on the EAST team blog with where you found them.