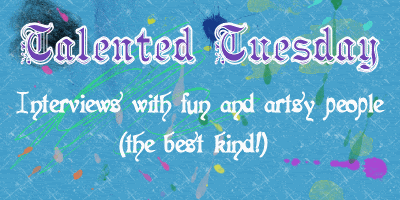 Yup, a new feature for my blog! With Talented Tuesday I'm going to post interviews with some of my favorite artists who are all fun and talented people. Trust me, you want to know them!
When I decided to do this feature, I knew exactly who I wanted to interview first. I met Ruthie online a few months ago and she's fast become one of my best online friends. She's so sweet, positive, talented, helpful, and funny, and I always enjoy talking to her. We also have a lot in common, and her obsession with purple is on par with mine with green. ;)
What's your name?
Ruthie
Describe yourself in five words.
Eccentric, Eclectic, Artistic, Focused, Random
If you were a color, what would you be?
PURPLE
If you were a "Dungeons and Dragons"/fantasy character or creature, what would you be? (Can be a specific character, or something general like "elven bard", "centaur", etc).
I would either be a purple dragon or a fairy of some sort....
If you could live anywhere (or anywhen), where/when would it be?
I would live sometime in the future when there was a cure for asthma and migraines...and all sorts of other diseases!
What is your greatest dream or goal?
I want to grow up to be an eccentric old woman. Like a crazy cat lady, only not with the cats because I'm allergic to them, all indications are that I'm well on my way!
What was your very first piece of art? How long have you been an artist?
I don't remember! I know when I was a little kid I used to draw princess dresses, which is funny, because I was a total tom-boy. Mom also taught me lots of little crafty projects, although for some reason I couldn't understand crocheting at the time, and now I love it! My first piece of jewelry that I remember making was on a loom with seed beads...but I'm not even sure I finished that. The first piece that I made and actually wore was when I was 15. It was a wire-wrapped bracelet and I was so proud of it! Looking back at it now I can see that it had a lot of promise as far as color and composition went, but that the workmanship was pretty shoddy :P
If you sell your art, how did you get started?
My friends and family had been telling me for years that I should sell my work, and I had always secretly dreamed of working in a bazaar or fair. While I was away in school a friend told me about Etsy (and bought the first piece from me). I had been working building an initial inventory. I also was getting really sick around that time. Opening my Etsy shop gave me an outlet for my creativity and something to do as I battle my health problems.
What is the strangest thing you've ever made?
Hmmm...despite the fact that I tend to be rather random...I don't think I've made anything that strange!
Pick your favorite project/artwork- what is it and what inspired you on it? If you'd like to share, tell a little about the process you used from inspiration to completion of that project.
I have a series of bead woven necklaces that I've designed. The first one was designed in response to a challenge by Team Big Damn Crafters, and I so fell in love with the design that I've made several since then! My most recent piece is dedicated to Breast Cancer Awareness and 50% of the sale will go to the Susan G. Koman fund. You can find it
here
:
What kind of advice would you give to other artists?
There are two things that are important you balance as an artist. Be true to your self, but also be aware of what works selling. To make money as an artist you need to be aware of trends and what work sells, but if that's all you focus on, you'll lose your inspiration as an artist. So make sure that sometimes you make things just because you love them! If the things you love happen to be what's selling...congratulations!
What is your favorite:Color?
Purple!
Quote?
"If you only knew all the things I wanted to say and didn't..." Anne of Green Gables
Book?
Oh don't ask me that! I have a list of about 50...
Character?
(book or whatever) Again...I have a list of about 50...
TV show and/or movie?
There are so many! I love anything scifi, fantasy, and I love crime dramas...
Season?
Summer
Food?
Anything chocolate!
Animal?
Tiger
Art medium and/or supply?
Seed beads :)
You can find Ruthie's shops
here on Artfire
and
here on Etsy
. Her art blog can be found
here
, and her blog with her writings, book reviews, and randomness is
here
.
That's all for now. Tune in next Tuesday for an interview with another talented artist! :)