Oops, I haven't made an art update in a while, huh? I suppose I should do that now. ;) This week I've been trying to make and/or list wintery items, so I've got a lot of pictures to share.
First, the dolls I made for a trade with my POEST teammate
talogwitch
. You saw the cats in a sneak peek, but I wanted to show better pictures of them, too. :) (Click to view the images larger.)
Here are Bat-Cat and Luci-fur:
And here's the mermaid I made for her, too:
This mermaid is like
Meremenin
in my shops, but my trade partner wanted her blond, which was fine with me/ Mermaids are so much fun to make! I'm not entirely happy with her tail, but I used the same stitches I was doing before; I think the problem is that it's thick-and-thin handspun yarn, so it's not going to be the same shape each time. I still think this doll is adorable, though! :D
I have a few ideas for more dolls and right now I'm working on two Pokemon (a Jigglypuff and a Togepi) for another trade; I'll be blogging about them soon. :)
The other things I listed/made recently were wintery things:
(This hat and scarf set can be found in my artfire shop
here
and my Etsy shop
here
.)
(And this scarf is on artfire
here
and Etsy
here
.)
I made both of these things
ages
ago (like two years ago, I think), but never got around to photographing or listing them. I haven't made any more because the Etsy/Artfire market is saturated in scarves (most of which are a lot fancier and prettier than mine), but I'm thinking that when I start doing craft shows next year, I'll do some scarves because they
are
fun and pretty quick to make.
The other wintery items I've listed so far this week are earrings:
It's
here
on Artfire and
here
on Etsy. I really like how the beads look like Christmas decorations. :) Unfortunately, I don't have any more of that red bead, so I'll have to use something else on the next one I make.
Those are called "Winter Forest" because they remind me of frost-covered leaves. I really like the colors on this one (I may need to do something like this for my Herald costume). They're
here on Artfire
and
here on Etsy
.
This is my second double chain earring. :) This Christmasy one can be found
here on Artfire
and
here on Etsy
.
And the last one I listed so far this week:
I like to make things for lots of winter holidays, so I made the leaf ones and this one in Hanukkah colors. This one is
here on Artfire
and
here on Etsy
. I'm so happy- I already sold one of this one, and to make it even cooler, it was only an hour or so after I listed it. That was my fastest sale! :D
And see that cute hairclip on the mannequin? That came from my Plurk friend
Smiss
. ;)
I'm not too happy with the photos with this batch of earrings, but since it's been rainy since I've finished them, I haven't been able to get good lighting. Ah, well. When the sun finally comes out, I'll sneak a few more photos.
Whew, this is a long post! Sorry about that, guys! I need to start doing this more than once a week, I guess.
Psst! And don't forget about the free shipping in my shops to the US and Canada!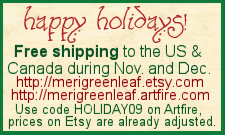 At my Etsy shop and Artfire shop.