Here's the second book I finished recently that I mentioned in my
previous book review
. Like the last one, this one also stars an intelligent, resourceful, and spunky young woman. This book is
Trickster's Choice
by Tamora Pierce.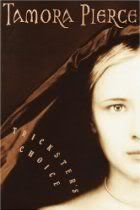 This is 13th in the
Tortall series
, but since it's the first in this particular story arc, a reader could read this book with no real problem. Technically if you haven't read any of the series you should start with
Alanna: The First Adventure
, but I'm pretty sure I haven't read that particular story arc yet (or if I did, it was years ago so I've forgotten it anyway), and I've been able to follow along just fine. As long as you start at the beginning of a story arc (subseries?), you'll be fine. Each story arc centers around one female lead character, and follows her for a few books. Does that all make sense? Man, it's confusing to review a book in the middle of a series, lol!
Anyway, this particular book is the first in the Daughter of the Lioness/Tricksters (why does it have two names, anyway?) subseries, and is about Aly, who, like the title says, is the daughter of the Lioness (aka Alanna- the first of the Tortall heroines). Unlike most of the other books, this one doesn't involve Tortall much and mostly takes place on a set of islands west of that country, which I found to be a fresh and interesting spin- not that I'm bored of Tortall; I just think it's cool when we get to learn about the surrounding countries.
I found Aly to be just as interesting as her predecessors and I enjoyed her relationships with the other characters. The only flaw I found in her was that she was almost
too
clever and lucky. (I'm trying to not go into more details than you can get from the back cover or on Amazon or something, so how can I word this...) Granted, a lot of her luck can be based on the fact that a god is helping her out; although that's dubious in itself since it's a trickster god involved (which I'll add that I found
awesome
since my D&D character is a cleric of a mischief god- I could relate to her experience). The other main thing that made her so clever and lucky was her vast knowledge of spywork. I know that she was raised to have those skills, but it just seemed like she always knew what to do in any situation. Somewhere along the lines a teenager is bound to mess up, right? Still, though, that flaw wasn't a problem because it didn't really detract from her character; she's still witty, intelligent, and strong. It just kind of made me go "hmm..." after I finished the book and I realized how lucky and skilled she was the whole time.
The other characters in the book are well-rounded and interesting, too. I'll admit that I now have a crush on Nawat, one of the main characters. I read in a review that he's not in the next book much- alas! But he's
cute
; cute should always be in the story. *pout* ... and to get on with the review, he's adorably innocent, although there's a reason for that, but I don't want to give it away. Suffice it to say that he's not really
human
per se. He brings a lot of humor into the story (although all this talk about eating bugs was kind of gross, now that I think about it) and is a good counterpart to Aly, and keeps her from being
too
serious about things. The other character I really liked was Dove, one of the girls in the family where Aly ends up. I have no idea how she is in the next book, but as of now, I'd love to see a series with Dove as the main character. Even as a 12 year old, she's just so smart and level-headed, and just seems like a good candidate for a series heroine.
As for the plot, I enjoyed the change to a different location we didn't previously know much about, and I loved the bits of humor throughout; without that humor, the book wouldn't have been nearly as good because it's a pretty dire situation that Aly is dropped into. I loved all the spying and sneaking stuff Aly is able to do (even if she is really good at it), and I thought the storyline was deep enough to hold your attention, but not so bogged down in politics and race issues that it became boring. I also enjoyed the cameos of previous characters (Kel! Daine! Numair! Hi, guys!).
Overall, I really enjoyed this book. I'm not sure if it's my favorite in the series (I think I prefer Daine or Kel to Aly), but it's definitely a good continuation to the super good Tortall series. I certainly wasn't disappointed by this book; I think it's just about as good as the rest. :) I'll give this 4 1/2 stars out of 5.