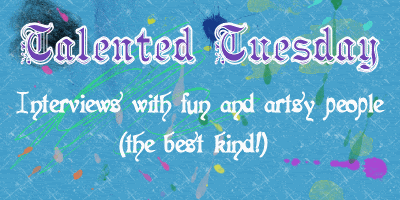 Hooray! Time for another interview with one of my favorite artists! :) This interview is with AJ of Erthe Fae Designs; she's one of my FAE friends (as in one of the regulars in the Fantasy Artists of Etsy team thread in the Etsy forums), and she's also the only elven bellydancer I know. ;) She makes
lovely
jewelry, so definitely check out her shop!
What's your name?
AJ Reardon
Where can you be found on the internet? (Website, Twitter, shops, blog, etc)
http://erthefae.etsy.com
http://erthefae.blogspot.com
http://www.erthefae.net
Describe yourself in five words.
Quiet and unassuming, unless dancing.
If you were a color, what would you be?
Green.
If you were a "Dungeons and Dragons"/fantasy character or creature, what would you be? (Can be a specific character, or something general like "elven bard", "centaur", etc).
I think I'd be a dryad, and whenever adventurers came to me for help with something in my forest, they'd have to pay me in beads.
If you could live anywhere (or anywhen), where/when would it be?
Right where I am. Arizona suits me well. I like the weather, I like the annual gem shows, and I like the friends I have here.
What is your greatest dream or goal?
To be Tucson's foremost teacher of Tribal-Style Belly Dance. It's a very specific goal, and one I'm actively working towards. There's no better feeling than being on the path to achieving your dreams.
What was your very first piece of art? How long have you been an artist?
My first piece of jewelry that I remember making was a two-strand necklace made with beads from cheap kiddie necklaces I'd cut up. I was probably 8-10 at the time. But I didn't start beading seriously until 11 years ago.
If you sell your art, how did you get started?
I was 16, the holidays were around the corner, and I knew my allowance wouldn't be enough to buy nice presents for my family and boyfriend. I'd been trying to find a job, even temporary Christmas retail work, for months, and no one wanted me. There was a store at the mall who had beads for good prices, so I decided to make a few necklaces to sell on eBay. Within months, I was totally hooked on beading, and what was supposed to tide me over until I had a "real job" became my main focus. I've still never held down a day job.
What is the strangest thing you've ever made?
Definitely Cthulhu, In All His Hideous Glory. He's a 7" plush Toy Vault Cthulhu, heavily embroidered with seed beads.
Pick your favorite project/artwork- what is it and what inspired you on it? If you'd like to share, tell a little about the process you used from inspiration to completion of that project.
Same as above! He's weird, but he's my favorite. Years ago, when looking at the beaded dolls of other artists, I had the idea that it would be fun to bead my plush Cthulhu. But I naturally shy away from projects that large, so it stayed in the back of my mind until this Summer, when it was announced that the Bead Retreat I was attending was going to host an Ugly Beaded Project contest.
Now, I have a natural aversion to the idea of wasting my time making something ugly on purpose, so I wasn't going to participate. But then I thought "Hey, Cthulhu is ugly, and I've always wanted to bead him..."
Cthulhu is largely inspired by the beaded Beanie Babies created by my friend Dot Lewallen (http://speediebeadie.blogspot.com/). I studied pictures of her Beanies, then started work on mine. I picked out the beads along the way, based on what tickled my fancy at the moment. I started out with very few ideas as to exactly what I'd do where, with the exception of the details on the wings.
I spent approximately 2 months on Cthulhu, beading almost every day. He's done entirely in beaded backstitch, using Japanese and Czech seed beads in several sizes, Japanese bugle beads, and Czech pressed glass.
What kind of advice would you give to other artists?
Make what you love. Don't go chasing after the latest trend on Etsy. Choose your niche and try to be the best in it. Others will be drawn to your originality, creativity, and love for what you make.
What is your favorite:Color?
Green.
Quote?
It seemed like a good idea at the time.
Book?
American Gods by Neil Gaiman.
Character?
(book or whatever) I don't think I could even narrow it down to a Top 10.
TV show and/or movie?
Babylon 5 and MirrorMask.
Season?
February and March, when Winter gives way to Spring. It's a wonderful time in Arizona. Gem show, Ren Faire, and wild flowers in bloom.
Food?
Really depends on my mood, but usually something involving chocolate.
Animal?
Pembroke Welsh Corgis.
Art medium and/or supply?
Beads! Probably a tossup between size 11 Japanese seed beads and 4mm Swarovski bicone crystals. I use a lot of both.
I hope you enjoyed this Talented Tuesday post. Thanks, AJ, for letting me interview you! :)