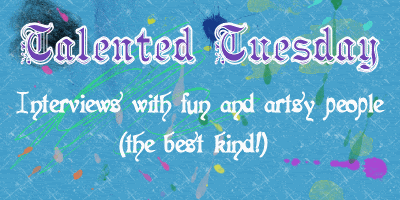 Here's the second Talented Tuesday post with another of my favorite artists; this week I'm featuring Cecily, one of my Plurk buddies. She's so incredibly talented at embroidery and costume-making- believe me, I have my eye on quite a few of her clothing items! ;)
What's your name?
Cecily Van
Where can you be found on the internet?
I have a bunch of places: website:
www.28sides.com
;
28sidesdesigns.artfire.com
;
28sidesdesigns.etsy.com
. Facebook:
www.facebook.com/28SidesDesigns
&
www.twitter.com/silverclassics
&
www.plurk.com/28sidesdesigns
Describe yourself in five words.
crafty, domestic, geeky, different, bookworm
If you were a color, what would you be?
iridescent earth tones
If you were a "Dungeons and Dragons"/fantasy character or creature, what would you be? (Can be a specific character, or something general like "elven bard", "centaur", etc).
If I myself were one, it would probably be an NPC who is a shop owner but I prefer half-elf rangers....
If you could live anywhere (or anywhen), where/when would it be?
on a lake in Maine...
What is your greatest dream or goal?
to be financially comfortable and able to continue doing what I love which is taking care of my family and sewing
What was your very first piece of art? How long have you been an artist?
I don't know. My mother was always very artsy so I grew up with crafts and arts (my mother can do it all from baking to sewing to knitting to painting to embroidery to writing to being a vet tech). I really started to be interested in creating beautiful object when I was around 11ish and began with beading. When I was 14 tho, I found my passion in sewing costumes. So I would say I was always an artist but am really now starting to come into my own using my personal favorite medium (although I still dabble in jewelry making and am learning knitting and hand embroidery)
If you sell your art, how did you get started?
I've always wanted to be able to make a living doing what I love (who hasn't) and when I was "let go" of my last job and was 3.5 months preggers (and jobs were scarce to begin with) my hubby and I decided to make a go of a home business
What is the strangest thing you've ever made?
clay pheonix I made my senior year of high school for ceramics class (it's very strange looking but I love it):
Pick your favorite project/artwork- what is it and what inspired you on it? If you'd like to share, tell a little about the process you used from inspiration to completion of that project.
My favorite piece is still in my head, it's my corset skirt. I haven't had a chance to make a proto-type yet. It is very similar to my current cincher skirt but certain flaws will be fixed (like tummy control). My process is a bit chaotic. The corset skirt is inspired by the cincher skirt I already make (which is slightly altered from a commercially available pattern) but there are few things about it which I'd like to fix, like dropping the waist to get a bit more tummy control so the tummy doesn't pooch out below the waistline when you cinch it tight (which is usually above the top of the pants, very unflattering).
But my fave that is complete?? The embroidered flask (cuz it's so cool)
What kind of advice would you give to other artists?
ignore what people say if it is not constructive, find a supportive group whether it's at a local cafe or online, because if you love what you do then it is worthwhile.
What is your favorite:Color?
changes but usually one of these; green, purple or red
Quote?
"Never eat more than you can lift" - Miss Piggy, although I have many more....
Book?
Depends on my mood, but I love Garth Nix and Robin McKinley (as well as older Mercedes Lackey and Anne McCafferey)
TV show and/or movie?
Firefly/Buffy/Gargoyles for TV...Movie: Court Jester/Wondery Man/Legend/Roman Holiday
Season?
Fall
Food?
home made
Animal?
cat
Art medium and/or supply?
fabric
Thanks for letting me interview you, Cecily! I hope you guys enjoyed another Talented Tuesday- stay tuned for next week when I interview another awesome artist. :)