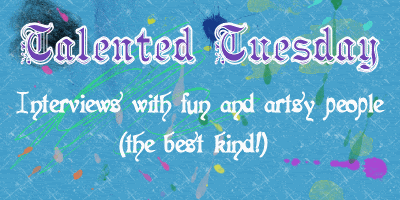 Yup, time for another artist interview! This time it's Dori, one of my Plurk buddies. She does some
amazing
work with polymer clay; I'm in love with so much pretty stuff in her shop!
What's your name?
Dori Thompson
Where can you be found on the internet? (Website, Twitter, shops, blog, etc)
SassyClayCreations.artfire.com
sassyclaycreations.blogspot.com
http://www.plurk.com/sassyclayer
Describe yourself in five words.
Creative, Happy, Old, Bold, Colorful
If you were a color, what would you be?
RED
If you could live anywhere (or anywhen), where/when would it be?
On the coast of either Washington or Oregon, watching and listening to the waves whenever I wanted.
What is your greatest dream or goal?
I would have to say I accomplished most of my goals and my greatest dream right now is to not have arthritis.
What was your very first piece of art?
I remember a map of the US made out of salt and flour showing rivers and mountains. Did that in 4th grade.
How long have you been an artist?
Every since I can remember. As a child, I used to draw on everything.
If you sell your art, how did you get started?
I decided I wanted to try it when I got older. And here I am.
What is the strangest thing you've ever made?
An outhouse made with polymer clay. It has a working door, a toilet seat and a "Sears" catalog (instead of tp) inside.
Pick your favorite project/artwork- what is it and what inspired you on it? If you'd like to share, tell a little about the process you used from inspiration to
completion of that project.
My favorite always seems to be the next project that turns out the way I wanted it to. Sometimes they don't cooperate. I would have to say right now, it would be my clay mask I made for our Smoosher challenge. I didn't draw a picture of it, I just saw it in my head. There it is.
What kind of advice would you give to other artists?
I have always been very picky about my work and was very critical of my work. I took some art courses in college and learned from a very fine art teacher that I should not be so hard on myself. I learned. Don't let things get in the way. Don't become discouraged. Whatever it is, do it anyway or how will you know how very good you really are?
What is your favorite:Color?
Teal Blue
Quote?
By three methods we may learn wisdom: First, by reflection, which is noblest; Second, by imitation, which is easiest; Third, by experience, which is bitterest. ~ Confucious
Book?
Wall-E
Character?
(book or whatever) Edgar Allen Poe, Sean Connery
TV show and/or movie?
I have more than one. Eureka, Fast Forward, Armageddon, Sleepless in Seattle just to name a few.
Season?
Fall, and in second place would be Spring.
Food?
Dungeness Crab
Animal?
All of them except snakes, lizards and spiders.
Art medium and/or supply?
Polymer clay and anything that can be used with it.
Kind of music I listen to when working with clay.
Celtic, folk and relaxing music. It is easier to work when I am more relaxed.
Thanks for letting me interview you, Dori! :D