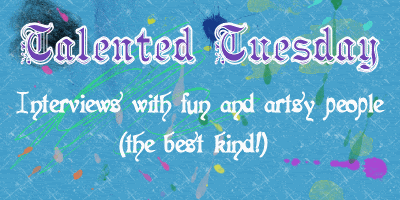 Time for the weekly interview with one of my favorite artists! Niere is special in that I don't know her through Etsy or Artfire; I met her years ago on
Gaia
. (We're both regulars in the LotR subforum, specifically the long-running [and rather bizarrely themed] Bakshi Legolas fan thread.) Niere (yes yes, I've known her real name for a long time, but I can't think of her as anything but "Niere") is so incredibly talented at drawing people. I
love
her art style, which is probably why I've asked her to draw me a bunch of things over the years. ;) (If you look over at the bottom left side of my blog, you can see the awesome fairy drawing she did of my muse.)
What's your name?
Melissa Hughes. Online, I usually go by Niere.
Where can you be found on the internet? (Website, Twitter, shops, blog, etc)
I have a few:
My deviantART account -
http://nieregreenleaf.deviantart.com
Art blog, "An Artist's Muse" -
http://niere.blogspot.com
Sims blog, "Simoirs of a Geek" -
http://simoirs.blogspot.com
Describe yourself in five words.
Eccentric, artistic, lazy, procrastinator, sarcastic (Ok. Some of those made me sound like a horrible person...)
If you were a color, what would you be?
Hmm. That's one of those questions I never knew how to answer. Blue, maybe. It reminds me of water. Though I can't really explain why I feel I'm like water sometimes. Perhaps because it can go anywhere and you never know where it's going to end up? It's kinda confusing... like me. Heh. Ok. I'm just rambling now.
If you were a "Dungeons and Dragons"/fantasy character or creature, what would you be? (Can be a specific character, or something general like "elven bard", "centaur", etc).
Hm. I've never played D&D, but I suppose an elf of some kind. I'd probably find some way to be my elven persona, Niere.
If you could live anywhere (or anywhen), where/when would it be?
It's fictional, but probably Middle-earth. It's such an interesting world and seems to have a lot of beautiful places. Of course, I probably wouldn't want to be there while the whole One Ring thing was going on. That might not be so pleasant.
What is your greatest dream or goal?
To actually be able to do something with my art. I really wish I could improve enough to actually be able to make art a career. Illustration sounds like a lot of fun, but my skills aren't quite up to par yet. Maybe one of these days...
What was your very first piece of art? How long have you been an artist?
Some random scribble I did as a child, I assume. But seriously, I've been drawing since I was a little kid. Mind you, I never said I was good when I was little. Far from it. I loved to draw, but as my parents could tell you, my "art" was pretty bad. My dad told me he was surprised that I actually ended up drawing pretty well considering. I started getting "good" around the end of high school and throughout college. I'm mostly self taught.
If you sell your art, how did you get started?
Oh, I've only ever sold a few pieces of art and that was to friends. One of my college friends bought one of my prints from my senior art show for $15. I remember back in high school, one of my "friends" bought a copy of one of my fanarts off me for $2. Heck, I feel like I ripped him off. It wasn't really a very good quality print job and I think I even got a waterspot on it. He offered to buy it though. Oh, I've also done commissions on Gaia Online, but that was for virtual currency, so I don't know if that really counts.
What is the strangest thing you've ever made?
Oh dear. Strangest thing? Let's see, I've had a lot of strange fanart concepts. Like, one time I was listening to my Mp3 player and YMCA came on and I started drawing the female characters of Star Wars: Knights of the Old Republic doing the YMCA. Heck, I think most of my silly KotOR fanart is the strangest art I've done.
Pick your favorite project/artwork- what is it and what inspired you on it? If you'd like to share, tell a little about the process you used from inspiration to completion of that project.
I'd have to say that my painting of my elf character Arthalion reading on the beach is my favorite piece of artwork. The character himself was inspired by Lord of the Rings. He was originally a fan character for LotR, but I took him out of that world and into one of my own creations. He's the scholarly type, so the reading was a given. The beach setting has some sort of background story to it. The reason my "story" mainly takes place by the sea (and thus the beach setting) is because of one of my main inspirations - the song "Into the West" from Return of the King. It talks about sailing into the West. So, that's sailing across the sea. Also, the line, "All will turn to silver glass" has always stood out to me. Well, silver glass reminded me of sea glass which you find washed up on beaches. Yeah. I have weird thought processes. This particular painting was one in a series of paintings. I also painted one of Niere (Arthalion's wife) and another one of Losse and Orien (Arthalion and Niere's kids) also on the beach.
It's kinda weird that I chose a painting as my favorite seeing as how painting is not my forte at all. It just turned out so peaceful looking and perfect for hanging on my wall. Plus I think I have a crush on my own character...
What kind of advice would you give to other artists?
Oh wow. I'm totally the wrong person to get advice from. Hmm. Well, make what YOU want to make. Or rather, what you're comfortable making. I can't count the number of times I ended up dreading drawing for people who had commissioned me simply because the subject was something I had no desire to draw or was uncomfortable with doing.
What is your favorite:Color?
Definitely purple. I prefer it either dark or really light. Does that make sense? I'm not too fond of bright purple.
Quote?
"He's dead, Jim." Sorry, I have no profound quotes. And yes, I have been watching far too much Star Trek.
Book?
Memoirs of a Geisha
Character? (book or whatever)
Current top three favorite characters (from tv shows since I haven't been reading much lately) are Lorne from Stargate Atlantis, Dr. McCoy from Star Trek, and Danno from Hawaii Five-O. Yes. I have weird taste.
TV show and/or movie?
Currently my favorite TV shows are Star Trek and Hawaii Five-O. That'll probably change in a month or so. As for movie, the LotR movies and Memoirs of a Geisha. I don't care that some people say the book is better than the movie and that you should therefore not see the Memoirs of a Geisha movie. It's a good movie and I still say it follows the book pretty well.
Season?
Fall. I like the somewhat moderate temperatures and the trees are really pretty. This fall, however, has been kinda sucky.
Food?
Pepper steak. Well, at least the way my mom makes it. I've had a different kind before (which was also good), but I'm especially found of the way she makes it.
Animal?
Cats. Definitely cats. Sadly, I haven't had one in a while because mine died semi-recently and my mom doesn't want to get another one.
Art medium and/or supply?
I deal mostly in pencil, so pencil. I mostly use mechanical pencils. I know it's rather unprofessional, but I never could get the hang of art pencils. I always felt like I was wasting them when I did use them. I also like using Adobe Photoshop Elements for coloring my pictures. I would use colored pencil more often, but it's harder for me to correct mistakes. Another "medium" I enjoy is Sims. Yeah. I make a lot of Sims for the game Sims 2 (some of which you can see at my Sims blog). I consider it art because I do a lot of editing on custom content - clothing, hair, etc. It really is a lot of hard work and sometimes it could go unappreciated.
Style:
Since I was first inspired to really start drawing after watching Sailor Moon in junior high, anime has had a huge influence on my art. I have since tried to develop my own style that is somewhere inbetween anime/manga and western cartoon with a dash of realism. My chibis are mostly anime inspired though.
Bit of semi-random information:
I have a series of characters based on several of my electronics. I personified them. It started with my first Mp3 player (which sadly broke recently) that I named Akiimei. I've since named and made characters of my old cellphone (Kikite), my new cellphone (Motoko), my Nintendo DS Lite (Drei), my digital camera (Sasa), my tower fan (Beamos, he's a robot), and my new Mp3 player (Fuu).
That wraps it up for this week's interview. Thanks for letting me feature you, Niere! :)