I decided on this week's Trove theme to help promote the treasure hunt the EAST (EarthPath Artisans Street Team) is holding until the 24th.
Please
play along if you can; last week we didn't have a single entry. :(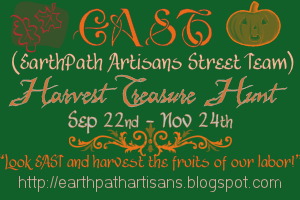 Just go to the team blog
here
to read how to play- basically you just hunt through the participating shops for 5 Autumn items that have a little blurb in the description (hint- there are at least three of these in
my shop
), then reply
to the post on the EAST team blog
with where you found them. There are some really neat prizes to be won, and a large prize basket at the end.
Now onto the Trove- this theme is
Autumn Harvest
, filled with items from members of the aforementioned street team.
1.)
"Autumn - set of 4 photo cards"
by
hedgewitchUK
.
2.)
"Harvest Bookmark"
by
ArabesqueArtsByDarcy
.
3.)
"A Dryad 8x10 print orange yellow golden autumn fairy art"
by
meredithdillman
.
4.)
"Harvest Leaf Imprint Lapel Pins"
by
Vermorlian
.
5.)
"Table Runner Wall Hanging Quilted Harvest Colors"
by
Cobaltquilter
.
6.)
"Demeter - Goddess of the Harvest"
by
baobablove
.
7.)
"13 Sparkling Fall Harvest Tags - Colorful Leaves - Ready to Go"
by
SpiritedWoodland
.
8.)
"Harvest Time"
by
HowlingCaterpillars
.
9.)
"Autumn Harvest Quilted Wallhanging"
by
rainsews
.