I've been feeling really crummy lately, so I haven't gotten a Talented Tuesday post ready to go yet. I may get it done today or tomorrow, but I'm not sure. Luckily I had a random picspam post in "draft" mode since September (I kinda forgot about it), and I added a few more photos to it. The first photos were taken months ago and the last few are recent; I apologize for the poor quality ones- those were taken with my phone. And hey, puppies make me feel better, right?
First, my fiancé getting dogpiled by Chloe and Daisy:
Puppies love Josh!
Of course, the kitty couldn't be left out, either. This is Clara in the middle of a "kitty flop" (that's what we call it when she falls over on her side for tummy rubs).
"Can I have a bite? Can I have a bite?" (This is Daisy doing her usual thing; annoying her big sister while poor Chloe just wants to eat a bone.)
Have I mentioned that Daisy is a fearless little imp? This is her kind of play:
Yup, she's hanging by her teeth far above the ground; you can't see it, but my sister was swinging her back and forth. It was hilarious!
Except Chloe jumped up and grabbed her, and they both came tumbling down:
This was even funnier. If only I'd had my camera handy instead of my phone; I would have recorded it. ;)
And now for some newer pictures- these were right after Daisy got back from the groomer so she has cute little bows in her pigtails/ears: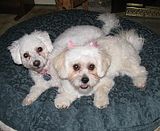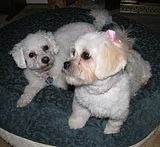 Chloe never moved but Daisy was all "What's that?" because she's ADD dog.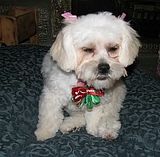 "Hey you kids! Get off my lawn!"
Eep, and I have even more I want to photodump (including awesome stuff I bought/traded for recently), but that'll go up later. :) Hopefully you guys don't mind random pictures of the fuzzbutts who live with me.