First, the required holiday silly video thing. Yeah, you probably know what it is, and yes, it's full of fuzzbutts. ;)
I love that the hat is hovering over Clara's ears. XD
And now, pictures! And lots of cookies.
My sister yelled "Wait! Don't eat that yet!" when I grabbed this cookie: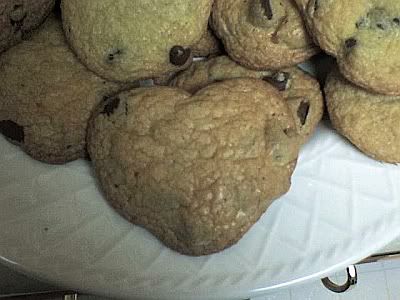 I'm glad she stopped me because I wouldn't have appreciated the accidental cuteness of a heart-shaped cookie had I just gobbled it up. So instead I grabbed my phone and took a picture (which is funny because my sister told me she had done the same thing). And yes, it was yummy. ;)
And now two more random cookie pictures: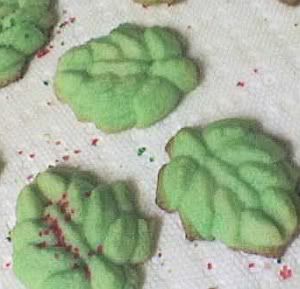 Yup, my sister and I made green leaves. And no one is surprised. ;)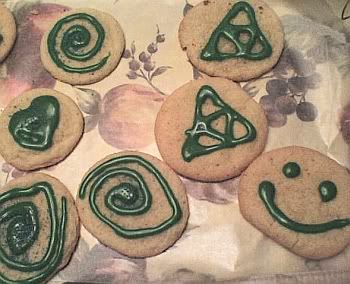 What do you mean, Triforces, smiley faces, swirls and hearts aren't Christmas-y? Come on, you know if you give me icing of some sort you're going to end up with weird cookies. ;) (I did make some trees and stars, if that helps.)
I don't think I shared these pictures yet: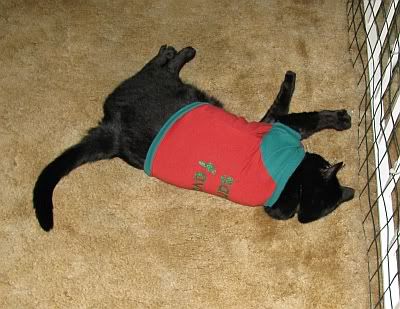 My sister bought tshirts for the two dogs (I don't seem to have a picture of them in the shirts yet, though) and ended up with an extra one. Since my cat is about the size of the dogs (she actually outweighs them by a few pounds, my pudgy cat), we decided to stick one on her. As you can remember, Clara is a total sweetheart and
puts up with my silliness
, so all she did was flop over a few times because the shirt felt weird.
(On an unrelated note, see that fencing? We have to have that up so the impish puppy doesn't try to walk across the part where the railing is.)
Back to the cat- I can't blame her, though; apparently cats don't have shoulders like dogs do, so her shirt kept sliding down. I'm sure all the rolling didn't help: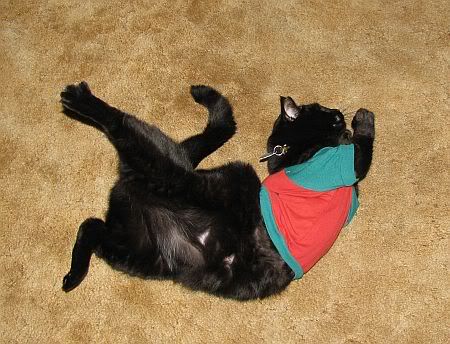 Roll, roll, roll.
Eventually she realized rolling wouldn't get it off her, so she resorted to staring at me: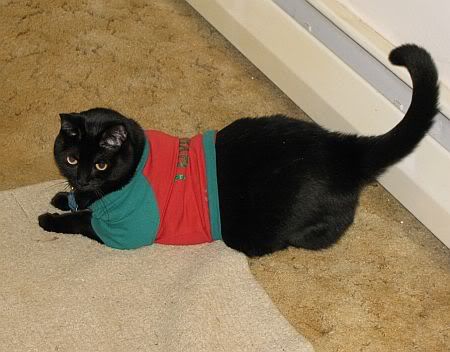 "Come on, Mommy, get this dumb thing off me. Please?"
When that didn't work, she figured if you can't beat 'em, join 'em: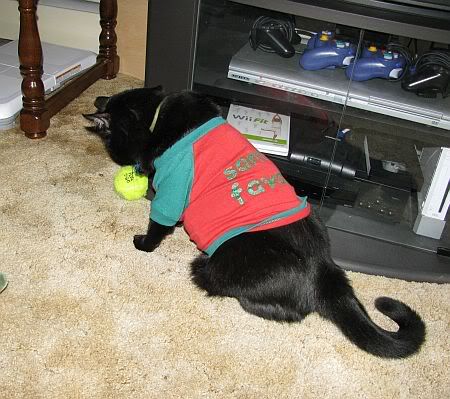 Yup, she decided to pretend to be a dog. For the first time
ever
she started playing with a ball (she never played with the jingly cat ones, but she'll bat around a dog drool toy?).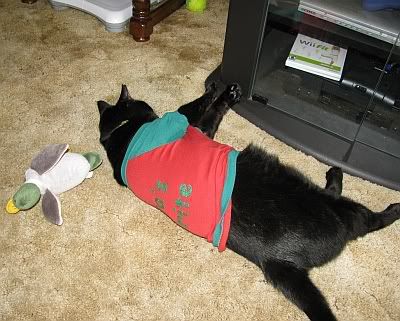 This only lasted a second, though, until the lazy cat batted it out of reach.
Then she wandered away, but I managed to snap a picture of her back where the words are, finally! I think the impish dog has a "Just how good do I have to be?" shirt and the good dog has something like "Christmas princess" on hers. Spoiled Clara got "Santa's favorite", which is apt. Judging from her girth, Santa has been feeding her cookies, too.
I have a short Christmas post ready to go up tomorrow, so I'll just say Happy Christmas Eve! I get to spend today with my fiancé's family and tomorrow with mine. :)