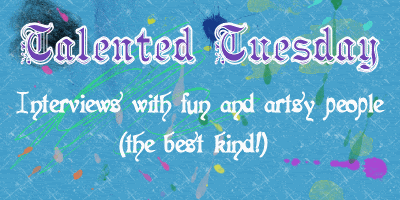 I missed last week (sorry about that, loyal blog readers!), but this week Talented Tuesday is back! This time I'm interviewing my Plurk friend Arlene, a very talented glass artist and painter. :)
What's your name?
Arlene Holtz. Online I am SpiritEssenceArt.
Where can you be found on the internet? (Website, Twitter, shops, blog, etc)
Main Blog:
http://www.SpiritEssenceArt.com
Artfire Studio:
http://www.SpiritEssenceArt.artfire.com
Twitter:
http://www.twitter.com/arlenemh
Facebook:
http://www.facebook.com/SpiritEssenceArt
Describe yourself in five words.
Creative, multi-faceted, eclectic, friendly, growing
If you were a color, what would you be?
Amethyst Purple
If you were a "Dungeons and Dragons"/fantasy character or creature, what would you be? (Can be a specific character, or something general like "elven bard", "centaur", etc).
I don't know Dungeons and Dragons, but I love reading Science Fiction / Fantasy - Right now am reading Lady of Avalon (a pre-quel to Mists of Avalon) and am loving it! I would say I would be a priestess on Avalon!
If you could live anywhere (or anywhen), where/when would it be?
As for the present time in the here and now, I would have a hard time choosing just one place. I love living near my family in Pittsburgh, and have loved visiting other places in this country and around the world, like San Francisco, San Diego, Australia, New Zealand. There are lots of other places I'd love to visit, but to live??? I am not sure. If I were to choose a time, I think it would be fascinating to live in the times of King Arthur's court / Camelot, or to live in the time of the early Impressionist painters and witness the new ideas and art styles.
What is your greatest dream or goal?
To be publicly recognized as an artist and to be able to bring pleasure and healing to people through my artwork.
What was your very first piece of art? How long have you been an artist?
I don't remember - I have been interested in art as a child, but was discouraged from exploring art early on. I had a piece displayed in grade school in an art show somewhere once and that thrilled me. I gave up art as a young girl, and only picked it up again in my 30's when I started doing pottery (wheel-thrown) and then stained glass. That was over 25+ years ago - which gives my age away!
If you sell your art, how did you get started?
When I started doing stained glass, after a while, people I knew from work or friends would ask me to make them something, and that was how I started being a paid stained glass artist. I went on to doing large window commissions, teaching stained glass, having my own supply and gift shop, doing fused glass, and eventually painting, and selling on the internet and in gift shops.
Pick your favorite project/artwork- what is it and what inspired you on it? If you'd like to share, tell a little about the process you used from inspiration to completion of that project.
My favorite project to date is the set of Angel Messenger Cards that I just finished creating that I am hoping to get published. It took me months to complete and I started out needing to learn some basic skills that I did not have when I first thought of it. This included things like, learning to draw and paint figures and faces, using watercolor as a medium, and coming up with meanings for the different cards. I was inspired to do this because I wanted to combine my love of personal growth and metaphysical / spiritual ideas with art, and the perfect opportunity this will be to help uplift and inspire other people.
What kind of advice would you give to other artists?
My advice would be to follow your heart and don't let others discourage you from doing what makes you happy. It's important to be true to your passions and to believe in yourself, and in those inevitable moments of self-doubt, to turn to friends and companions who will encourage, support, and be positive. None of us need more critics in our lives!
What is your favorite:Color?
Purple
Book?
Too many to list!
TV show and/or movie?
Medium, Ghost Whisperer, Grey's Anatomy, The Mentalist
Season?
Spring or Autumn or Summer. Anything but Winter!
Food?
Chocolate! I love food, so it's hard to choose, really.
Animal?
Again, I love animals - I have 2 cats and I love them dearly. I do love dogs too.
Art medium and/or supply?
Watercolor at the moment, but I love Pitt pens and oil and acrylic paints, too.
Thanks for letting me interview you, Arlene! I hope everyone enjoyed another interview; I love getting to know more about my favorite artists. :)