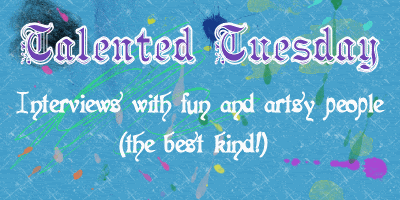 I'm all sorts of behind with posting these interviews, but I'm trying to get back on the ball. This week Talented Tuesday features another of my awesome and talented FAEteam (fantasy artists of Etsy) friends, Lady Steel.
What's your name?
Kathy, which is rather boring so my husband chose Lady Steel for me to promote with.
Where can you be found on the internet? (Website, Twitter, shops, blog, etc)
http://88Links.etsy.com
http://twitter.com/88Links
http://twitter.com/faeteam
http://88Links.blogspot.com
http://companies.to/88Links
http://www.flickr.com/photos/88Links
Describe yourself in five words.
Fun, Thankful, Curious, Happy, Sarcastic
If you were a color, what would you be?
Purple because it's a mix of the basics but becomes its own power.
If you were a "Dungeons and Dragons"/fantasy character or creature, what would you be?
Woodland elf. I always fancied the tall, mystical Tolkien elves.
If you could live anywhere (or anywhen), where/when would it be?
Medieval England was always my fantasy. Learning about history and the conditions, now I would choose somewhere warm and gorgeous like Hawaii or Mexico.
What is your greatest dream or goal?
Find happiness in everyday.
What was your very first piece of art? How long have you been an artist?
I've been crafting with found materials since childhood. I remember being proud of a sock horse marionette I made, thinking it would get me a part on the Muppets.
If you sell your art, how did you get started?
I began selling jewelry after being laid off from the hospitality industry in October, 2008. A newspaper article about Etsy brought it to my attention and I opened my shop, 88Links, in November 2008.
What is the strangest thing you've ever made?
A locking slave collar for a couple...
Pick your favorite project/artwork- what is it and what inspired you on it? If you'd like to share, tell a little about the process you used from inspiration to completion of that project.
I love animals so my favorite project is my Etsy icon, Slinks. Slinks lives a life of his own as he guards my patio. He is a swimming dragon made entirely from handmade steel rings. The inspiration came from a bamboo dragon I received as a gift. Staring at it one day, I realized he would be perfect in steel! It took an entire day to roll 12 ga wire and saw rings, by evening I had the body completed but I couldn't stop. In front of the television, after dinner, I absent mindedly kept putting rings into, and taking them out of, his imagined head. Before I knew it, his face was looking back at me. He is like a pet so if anyone ordered him, I would make another.
What kind of advice would you give to other artists?
Be your own cheerleader. If you like your art, that is enough reason to create.
What is your favorite:Quote?
"I Believe"
Book?
Love to read fantasy, history, culture, biographies. I will read anything even a catalog.
Season?
Autumn
Animal?
Dog
Thanks for letting me interview you, Lady Steel! (I love that dragon so much!)
Tune in next week when I hopefully remember to make the next Talented Tuesday post. ;)