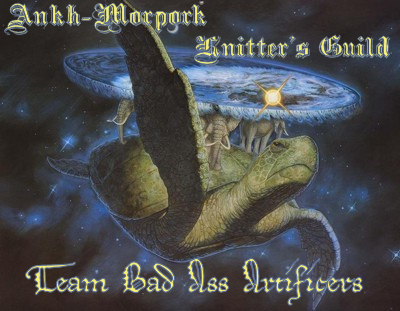 Opening Ceremony
Can I just say how much I LOVED the opening ceremony of the Olympics? It had punk fiddlers and tap dancers!!! You might not know this, but I know how to tap dance (and want to pick it up again someday), and Celtic rock is my favorite genre of music- it reminded me of Enter the Haggis, my favorite band. :D It's like that part of the ceremony was specifically designed for me, lol!
On the fiber side, I was ready to go exactly when it started (but got the picture a minute late).
You can see the opening of the opening ceremony on tv, I have the Ravelympics group open on my laptop, and you can see the pattern I'll be using first and some yarn. I was also wearing my Ravelry "A Daily Dose of Fiber" tshirt, but didn't get a picture of that.
And if I take a step backwards you can see my helper (coach? Sidekick? Teammate?)...
Yup, that's Clarabell, already excited that it's the Ravelympics. She knows that means it's time for yarn and curling up on my lap for hours on end; her favorite things!
Day 1
This is what I've finished so far for Day 1- a hexagon and a half for the laptop case I'm making. :) Yup, I decided 45 minutes before the Olympics started that I was changing the design idea for the bag- luckily I'm still doing the same event! I told my dad that I felt like someone running back and forth at the Olympics all crazy-like going "Wait! I don't want to ski! I want to skate! Where are my skates!" LOL!
Quoth (the raven) is looking on because I'm on Team Bad Ass Artificers (the Ankh-Morpork Knitter's Guild). He's like my personal mascot (you know, because my Ravatar is a picture of me in my Susan costume).
I think today I may start working on my ears for the Hat Halfpipe event because my hand is sore (bah on this weather), and that one's a lot less repetitive than these hexagons. And I feel like I've caught something, so that doesn't help! I can't be sick for the Ravelympics! Gotta do well for my team. :D