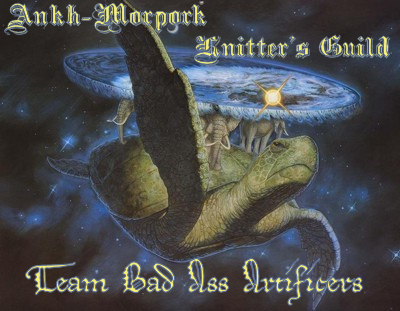 I'm still upset (see previous post), but I'm trying to busy myself with normal things, so I'm still doing the Ravelympics. Unfortunately, my sides have been hurting (I think I pulled muscles while exercising), and crocheting is making that hurt more, so I'll likely not be doing much for the next few days. I'd get my personal mascot or my sidekick to help, but neither a stuffed raven or a cat have fingers. Alas! Next time I'll have to pick out more useful helpers. ;)
Day 4 (Part 2)
In the last Ravelympics post I shared the faun ears I made (those are the tan and brown things in the front/top), but I also finished another hexagon (the orange and green one) and started the 6th (the pink and blue one). I'm getting there!
As usual, my personal mascot Quoth looks on, but this time he's joined by my sidekick Clara, who couldn't resist all the dangling yarn ends.
And since I finished those ears for the Hat Halfpipe, that means I got a medal!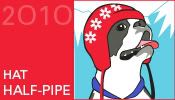 I'm wondering if I should stick the medals from this year and 2008 in my blog sidebar somewhere...
Day 5
Didn't get much done this day at all; I was too sore.
I only finished the pink and blue hexagon yesterday. ...Which came out smaller than the rest, for some reason; I may need to add an extra row later. Maybe the yarn is slightly thinner? It's all the same weight but I'm sure there's some variation there.