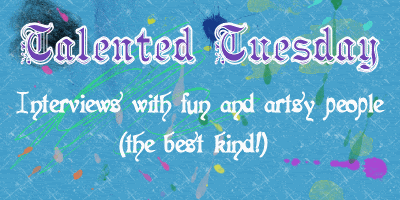 This week (yup, finally remembered to post an interview this week!) I'm interviewing one of my Plurk friends. As someone who also makes dolls, I really admire Marjorie's because I can see how much work and detail must go into even the smallest of pins (and the detail on these just leaves me in awe!). She makes beautiful and unique art- definitely check out her shops. :)
What's your name?
Marjorie Dawson (or Whskr for short!)
Where can you be found on the internet? (Website, Twitter, shops, blog, etc)
http://www.etsy.com/shop/WHSKR
http://felt.co.nz/browse/user/whskr
http://www.artfire.com/users/Whskr
Twitter :
http://twitter.com/whskr
Facebook Fan Page
http://www.facebook.com/WhskrDesign
Describe yourself in five words.
Doll maker, metalsmith, exploratory, technophile
If you were a color, what would you be?
Red
If you were a "Dungeons and Dragons"/fantasy character or creature, what would you be? (Can be a specific character, or something general like "elven bard", "centaur", etc).
Witch - I'd love to brandish a wand!
If you could live anywhere (or anywhen), where/when would it be?
Anywhere permanently warm with the option to visit snowy peaks once a year.
What is your greatest dream or goal?
To build Whskr handmade craft into a little brand all its own.
What was your very first piece of art? How long have you been an artist?
I love Lego bricks. When I started school I totally ignored Mum waving goodbye and set to building things, totally disregarding the sobs of those kids who felt them selves abandoned on their first day at school!
If you sell your art, how did you get started?
I heard mention of a place called 'Etsy' on a podcast about knitting called 'Sticks and String' (David Reidy) I investigated and set up shop a few days later. Small scale online selling has been revolutionsised by sites like ArtFire, Etsy and Felt.
What is the strangest thing you've ever made?
My larger art doll pinds with long dangly arms or with overlong arms. I really like them but some people find them strange. They tend to sell to practising artists (!)
Pick your favorite project/artwork- what is it and what inspired you on it? If you'd like to share, tell a little about the process you used from inspiration to completion of that project.
Mr Dangle. He was my first larger sized pin and was just wacky with long arms and a face set slightly askew. I never thought anyone would buy him I just him up online so show that I can make stuff that isn't just cute, or sweet.
When I was making Mr Dangle, I used my favourite sheet copper and just went with the shape - trying not to be too exact, or exacting in my demands, but relax. A simple shape isn't always easy to work with you can sit there and go blank but I had some of my fun charms from a fave Etsy seller and I had a lightbulb moment!
What kind of advice would you give to other artists?
You might not always find that you are doing the thing you love most straight away. Don't be afraid to explore other skills and crafts. I am a decorative painter who spends a lot of time learning about jewelry now. All artists should explore too, to freshen your outlook, to take a break, returning to what you to love with a happy heart.
What is your favorite:Color?
Red
Quote?
"The greatness of a nation can be judged by the way its animals are treated." Mahatma Ghandi
Book?
The Old Kingdom Trilogy by Garth Nix.
Character? (book or whatever)
Mogget (see above)
TV show and/or movie?
As we don't have a TV, it has to be a movie right? "The Lives of Others" was stunning and as I have never read The Lord of the Rings (I tried....) I love the movies.
Season?
Spring - warmth, growth, joy!
Food?
Anything eaten in a nice restaurant that I didn't have to cook (yeah!)
Animal?
Cat, Dog, Guinea Pig.
Art medium and/or supply?
Metal and any tools I can get my hands on from Rio Grande!
Thanks for letting me interview you, Marjorie! I love learning more about my favorite artists, and I hope my blog readers enjoy it, too. :)