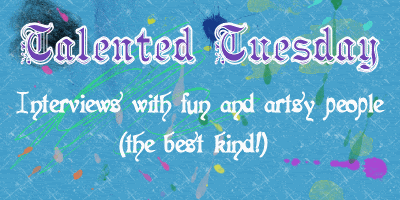 Tuesday already? Time for another fun artist interview! This time it's the talented jewelry-maker (and one of my cool Plurk friends) Scarlet. I just
love
her photography style and her jewelry is lovely! :)
What's your name?
Scarlet Leonard
Where can you be found on the internet? (Website, Twitter, shops, blog, etc)
http://www.scarlet-impressions.com
- Main Artfire Store
http://scarletfusion.artfire.com
- Second Artfire Store (Graphics)
http://www.artfire.com/users/scarlet-impressions/blog
- Blog
http://www.twitter.com/scarletleonard
http://www.plurk.com/ScarletLeonard
http://scarlet-impressions.deviantart.com
http://www.facebook.com/scarletimpressonsjewellery
http://www.handmadenews.org/columnist/index.php?aid=1384
Describe yourself in five words.
Random, Bouncy, Outgoing, Friendly, Helpful.
If you were a color, what would you be?
Pink - it's welcoming, happy, girly and fun.
If you were a "Dungeons and Dragons"/fantasy character or creature, what would you be? (Can be a specific character, or something general like "elven bard", "centaur", etc).
In my RPG days I was always a halfling/hobbit loved playing them. I once had a WHFRP halfling (cook) that became narcissistic and developed anorexia, she lost a leg towards the end trying to control an earth elemental. That was an interesting time.
Shadowrun was an exception I was human (made sure I was only 4'2" though) and always a decker. I ran with a troll that shot up my deck one day literally kicked that guys ass (OOC)
If you could live anywhere (or anywhen), where/when would it be?
Middle Earth, Hobbiton, 4th age.
What is your greatest dream or goal?
My husband and I share a dream of being self sufficient (
Chasing the Good Life
) We would also like to build our own house with completely handmade/artisan items (he doesn't know that last part about handmade that is mostly my dream.)
What was your very first piece of art? How long have you been an artist?
I used to make friendship bracelets when I was about 8 loved making those and other little craft projects I think I have always had the creative streak though 10 years ago I was introduced to jewellery making and have been addicted since.
If you sell your art, how did you get started?
I started jewellery making by making a few things for myself (hating the current trends) and a friend from work liked them and asked where I got them, I ended up making her a pair then some more pieces for her daughters. My mum got me to do a mini show at her work and I sold a few bits there so I got into going to other local shows.
What is the strangest thing you've ever made?
I have no idea, I asked my husband and he said "There's some meals that come pretty close." I'm not that good a chef!
Pick your favorite project/artwork- what is it and what inspired you on it? If you'd like to share, tell a little about the process you used from inspiration to completion of that project.
My favourite has to be my
Autumn Wire Wrapped Pendant
. It was my first attempt at a wrap like that and it took me over 3 hours of actual work time on and off over a whole week of puzzling what should go where and how would I do this and that.
I had always had a love for wire wrapping and really wanted to get into it, I had tried easier ideas but not got very far with them, I may have been a little silly to try a more complex idea but I had seen some shapes that I had taken a fancy too and the idea dawned on me.
I made a similar design more recently (
Lilac Turquoise Copper Wire Wrapped Pendant
)
What kind of advice would you give to other artists?
As artists? - To always believe in themselves and never give up on anything no matter how long it takes you to get there.
As sellers? - Read everything that you can find before embarking on anything, pick the best option for your business goals and always have a plan.
What is your favorite:Color?
Pink
Quote?
Sometimes you have to take the leap, and build your wings on the way down
Book?
Snow Crash - Neil Stephenson
Character? (book or whatever)
Diddl
loved that little guy since my first trip to Germany still have a heck of a collection.
TV show and/or movie?
Flash Forward
Season?
Late Summer
Food?
Chocolate (What woman wouldn't say that?)
Animal?
I don't pick favourites on fur babies.Though I can't wait until we have the space to keep pigs
Art medium and/or supply?
Wire and my glass rods so pretty picking out the colours
I just love her location of choice! Hey, Scarlet- if we ever find ourselves in Middle Earth, expect a Mirkwood elfling to show up at your door for tea. ;)
Tune in next week for another artist interview!