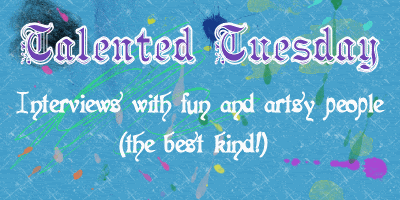 Time for another interview with a talented Plurk friend! I really admire Cat's work- I think it's just so pretty and unique! I'm especially in awe because I've wanted to try crocheting wire for a while, but haven't had the guts to try yet, so I think that what she can do with hooks and needles is the coolest thing! And have you seen her kitty things? Oh my gosh, they're adorable!
What's your name?
Catrin Maier, but many of my friends have been calling me Cat for the last 25 years
Where can you be found on the internet? (Website, Twitter, shops, blog, etc)
My blogs (English and German) can be found at
www.catswire.com
and
www.catswire.de
My shops -
www.catswire.artfire.com
/
www.zibbet.com/catswire
/
www.catswire.dawanda.com
Twitter -
www.twitter.com/CatsWire
Facebook -
www.facebook.com/CatsWire
Describe yourself in five words.
Crazy, creative, cat lady, bookworm, ironic
If you were a color, what would you be?
Sunny yellow alternating with black
If you were a "Dungeons and Dragons"/fantasy character or creature, what would you be? (Can be a specific character, or something general like "elven bard", "centaur", etc).
Have never played it, but can I be a witch??
If you could live anywhere (or anywhen), where/when would it be?
I would like to see places, but for living I'll stay in my hometown. I would love to see it in the 20s, but for living I would probably choose the 60s/70s. Good childhood memories ;-)
What is your greatest dream or goal?
Tough choice, that changes. Sometimes I want to be a great artisan, sometimes I just want to be happy and content with what I've got. And sometimes I would do anything to meet Johnny Depp.
What was your very first piece of art? How long have you been an artist?
I started in November 2008, first just for myself. My first piece was a pendant from crafts wire with little rainbow beads.
If you sell your art, how did you get started?
In February 2009 I joined a jewelry forum. And suddenly I had an online shop. Talking about very cold water here!
What is the strangest thing you've ever made?
Probably the pendants and earrings from my kitty line.
Pick your favorite project/artwork- what is it and what inspired you on it? If you'd like to share, tell a little about the process you used from inspiration to completion of that project.
My favorite is the blue rose pendant which is really mostly silver wire with blue sapphires scattered randomly. When I started knitting, I had a different design in mind, but suddenly I felt there was a rose in there and I changed to the crochet hook to be able to shape it better. It was not one of my most time-consuming designs, but it is a great example for how my pieces develop.
What kind of advice would you give to other artists?
Do what you feel inside yourself. Sometimes it takes a little time to find out what that is.
What is your favorite:Color?
Blue
Quote?
I have so many, but I guess I'll pick "You're gonna need a bigger boat" from "Jaws"
Book?
Almost everything by Terry Pratchett. Don't make me choose
Character? (book or whatever)
Nanny Ogg
TV show and/or movie?
So many. At the moment it's "Boston Legal" as a show and "Coraline" as movie
Season?
Fall
Food?
"Kässpätzle" (handmade Swabian noodles with cheese and onions)
Animal?
Cat!!! *lol*
Art medium and/or supply?
Wire and beads
Thanks for letting me interview you, Cat! (And can I say how awesome you are for not only being a talented artist, but for also being a Terry Pratchett fan?) ;)