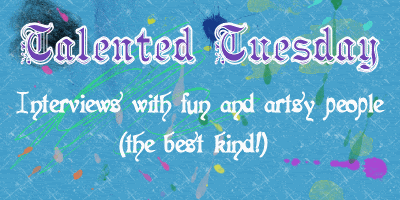 I know I've been missing these weekly posts- sorry about that, guys! Today's interview is with one of my good Plurk friends, Robyn of JewelledTrellis. Robyn is a super-sweet person (I'm so glad to have her as a friend!) and she's also a very talented jewelry artist.
What's your name?
Robyn Selk
Where can you be found on the internet? (Website, Twitter, shops, blog, etc)
www.jewelledtrellis.artfire.com
,
www.twitter.com/jewelledtrellis
,
www.facebook.com/jewelledtrellis
,
www.jewelledtrellis.zibbet.com
,
www.jewelledtrellis.etsy.com
,
www.jewelledtrellis.blogspot.com
Describe yourself in five words.
Loyal, Fierce, Shy, Empathetic, Tenacious
If you were a color, what would you be?
The dark indigo that is found streaking the sky after the sun has dropped beyond the horizon and night is descending.
If you were a "Dungeons and Dragons"/fantasy character or creature, what would you be? (Can be a specific character, or something general like "elven bard", "centaur", etc).
I would be a Silver Dragon or an elf. I love both dragons and elves. Ironically my nickname in high school was Dragon lady not because of a collection of dragons or the like but because I was a formidable debater. My husband still claims he can't win an argument to this day.
If you could live anywhere (or anywhen), where/when would it be?
It would be the wilds of Ireland in an charming drafty castle around 1200's.
What was your very first piece of art? How long have you been an artist?
My first piece of art would have been a cross stitch when I was ten. I stitched a pillow for my bed. I still love to cross stitch especially if it is on a celtic or art nouveau style. I love to dabble in all kinds of artistic expression. I did learn over the years that I do not sculpt well or excel in watercolors. I was an abysmal failure at both of those.
If you sell your art, how did you get started?
I started 2 1/2 years ago selling my painted candles, cross stitch, some beaded jewellery and ornaments
Pick your favorite project/artwork- what is it and what inspired you on it? If you'd like to share, tell a little about the process you used from inspiration to completion of that project.
I have deep Celtic roots and have been fascinated by family history since I was very little. Family crests, Coat of Arms and crest style jewellery is probably my favorite type of piece to create. My favorite piece would have to be
this crest piece
.
I think there are those of us who seek out our roots because of a longing to belong to something that endures and lasts. Something with deep history and long standing family tradition. That desire drives me as well every time I work on a crest or coat of arms style piece.
What kind of advice would you give to other artists?
Surround yourself in the art that inspires you. If you wake in the morning with visions of a project or design than that is what you should be engaged in doing. Make what you love your obsession and you will find success.
What is your favorite:
Color?
Rich deep royal purple
Quote?
All men dream, but not equally. Those who dream by night in the dusty recesses of their minds, wake in the day to find that it was vanity: but the dreamers of the day are dangerous men, for they may act on their dreams with open eyes, to make them possible. - Thomas Edward Lawrence
Book?
I can't pick just one. There is only one thing that surpasses my collection of crafting and jewellery supplies and that is my book collection. It has grown to the point that my husband has created a library for me. I have a rather eclectic reading collection but I unwind with a good fantasy novel. My copies of Lord of the Rings are falling apart. I admit to enjoying Jane Austen's works and the lighter writings of Lynn Kurland when I need to relax and unwind.
Character? (book or whatever)
I admire the tenacity and shrewdness of Catherine the Great, Czarina of all the Russias.
TV show and/or movie?
Stargate is my favorite series but I adore old movies from the 1920's-1950's as well.
Season?
Spring with all the wild thunderstorms and the fresh new green of life returning after the bitter cold.
Food?
Atlantic Lobster and fresh mussels steamed and served in a tin pail at dusk while sitting on the porch of my Aunt and Uncles cottage.
Animal?
Hammerhead shark
Art medium and/or supply?
I currently adore vintage glass cabochons and unusual gemstones. I tend to dabble in multiple mediums and have loved each in turn.
I'm married to my high school sweetheart for 16 years now. I have 5 children, 3 girls and 2 boys who I home school. We live in a tiny town in the Northern part of Canada. I collect tapestries, craft supplies and old movies. I sing and dabble in playing the harp and piano. I studied in Sweden for a year and still dream in Swedish on occasion.
Thanks for letting me interview you, Robyn! :)