I was (oddly, but thankfully) productive this past week or so. I got a whole bunch of stuff made and/or listed, but I think what I'm most proud of is that I actually got some creative writing done. This is big for me because I haven't seen my writing muse in
years
, but this week I was able to write
an 830 word ficlet/short story
. I decided that I'm going to start writing ficlets based on my D&D character and the world that Josh created because it's a good starting point since I'm so familiar with the character and the world. I'm a pretty good writer but I've had a lot more practice with essay-type writing than the creative kind, so I'm hoping this'll give me the inspiration I need to practice.
(Don't get me started on how my lack of self-confidence at creative writing stems from the fact that, when growing up, my teachers never ever let me write anything remotely fantasy, which was the only creative writing I ever wanted to do...)
Anyway, you can find the blog where I'm going to be posting my writing
here
: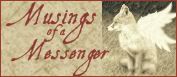 I can't promise you that I'll be a Tolkien, but I can promise you that it'll be well-written (as in sentence structure and things like that; I obviously can't say everyone will like the subject or my writing style and whatnot) and
extremely
grammatically correct (hey, I have to make use of that BA in English somehow!). Warning, though: I will have some silly posts over there, as well, because when have I ever taken myself seriously? ;)
Now onto the art!
I've been working on a
lot
of horns and listed the first pair this weekend:

These blue dragon horns are made from polymer clay and extremely shiny blue glitter and can be found here on Artfire and here on Etsy.
I really really love the colors in this necklace and I'm extremely partial to frogs, so I may have to make another one like this for myself. ;)
"A Frog's Garden" can be found
here on Artfire
and
here on Etsy
. It also doubles as an anklet. :)
And here are a few simple hemp bracelets/anklets:

"Water Garden"- here on Etsy and here on Artfire



"Red Ocean"- here on Etsy and here on Artfire



"Summer Sand"- here on Etsy and here on Artfire
I still have more horns and jewelry queued up, so look for those soon! :D
And before I sign off for the night, I wanted to share this picture of my cat barging in the way of my work area:
"Hey, mommy! Take a picture of me! I'm cute!"