I was having a really really crummy day yesterday (mainly caused by my mother, but that's no surprise) but things got a lot better, so I'd like to share. :) I finally felt up to going out and was able to hang out with my best friend, her mom (who's also a good friend), her boyfriend, and my fiancé. I got some cool dice beads off of Care, then she surprised me with this necklace she and her mom had got/made for me:
It's a red fox on green ribbon cord with some silver-y beads, which is
perfect
. Foxes mean a lot to me; they're one of my favorite animals (just below housecats) and since they're Cyneric's totem animal and he's been inhabiting my head a lot, foxes have become doubly important. Needless to say, I'll be wearing this every day. :D Thanks so much, guys, for thinking of me! And yup, since she mentioned how the fox seemed to have cat eyes instead of fox eyes, I attacked them with some black paint and fixed the pupils.
And then when I got home I saw that my friend
Niere
had left me a message on gaia; she's one of the two friends I had asked to draw me pictures of Cyneric, so I was extremely excited to see that the subject line was "Art for you". And let me tell you, I wasn't disappointed! Niere is an
amazing
artist and has often drawn me awesome art (which reminds me- I need to change my AF banner to use the drawing she did of my art muse), and this time was no different. Look at the great job she did: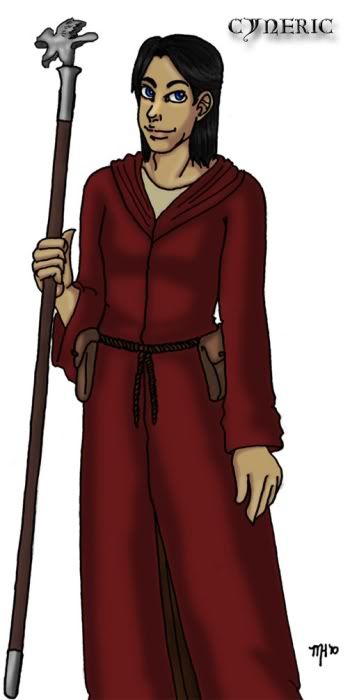 (Click to view it larger)
Yup, that's my Cyn, alright! Winged fox quarterstaff (which seems to be based on the
one my doll has
- cool!), smirk, and all. I'm completely and utterly pleased with this drawing and I've already put it up on
Cyn's blog
.
So *big hugs!* to these awesome friends who made me feel a whole heck of a lot better. Friends are just great people to have around and certainly make up for the shortcomings of family. :)