Time for another art post! There isn't as much in here as I thought there'd be because I've been working on a lot of half-finished projects (those'll be shared soon!), but here's some of the stuff I've done and/or listed this week:
***Horns***
I listed another two pairs of horns this week. The first is a simple pair of green-gold ones:
The pictures really don't do them justice; the green-gold is a lot more striking in person. :) They're
here on Artfire
and
here on Etsy
. (Edit: These sold to one of my awesome Plurk friends. I'll make another glittery pair soon!)
The second pair are my absolute favorite ones that I've ever made; I love these so much that I'm going to have to make a pair for myself!
These "Green Vine Forest Fairy Costume Horns" have little leaves and vines sculpted and carved out of clay and are attached to a horn shape I'd never used before, so I'm really digging these. You can find them
here on Artfire
and
here on Etsy
(the AF name is slightly different because google base doesn't allow the word "vine". Yeah, I think that's dumb, too).
***Jewelry***
I made this as a custom order for one of my awesome repeat customers. :) I really like how the blue and silver looks with the castle- it's pretty! I know the upper post looks weird; the earring was made for the right ear and my mannequin doesn't have holes in that cartilage, so I had to tuck it under her hair.
"Black and white hemp necklace - Ice Goddess" is made from white, clear, and black glass beads, a pewter goddess charm, and white hemp cord. It can be found
here on Artfire
and
here on Etsy
.
"Summer Simplicity", another wood and hemp bracelet/anklet
here on Artfire
and
here on Etsy
.
And this is my favorite hemp piece of jewelry I've made recently- it's called "Muse's Inspiration". This necklace was inspired, oddly enough, by my writing muse, who has a tendency to take over when my art muse should be in control. I made this in warm colors (reds, oranges, and browns) and in an ornate but masculine style, as befits his inspiration. It's
here on Artfire
and
Etsy
(once again I had to change the name on AF; this time because that site doesn't allow apostrophes in the title).
***Writing***
Yup, still been writing! The latest update to my fantasy story is
Called by a God
. Like always, you can find my writing blog here: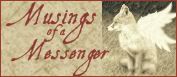 I've written a good deal more to the story, but I'm kind of stuck because I can't fine-tune the details until my fiance writes them; I'm fine writing small bits about my character and can do what I want, but I've gotten to the point where I need to know the political and religious goings-on of the world, and I can't make that up without going against the ideas said fiance already has. I'll help Josh create it, but a lot of that is going to have to come from him. That's what I get for writing about an aristocratic priest, I guess! When I played street rats, I never had to worry about knowing that kind of thing. ;)