Yup, another week where I didn't get a lot done. My sides have been really sore so while I'm trying to decide if I should get tests done or not (don't even get me started on health insurance and the "healthcare" system in this country), I haven't been able to work on much art or sit at the computer to catch up with street team stuff. :(
Anyway, I have worked on and listed a few things, so hooray there!
Cartilage earrings:
if they look familiar, I hinted at both of these in an earlier post.
This one was inspired by Gondor and the White Tree in
The Lord of the Rings
, and the star is to represent the seven stars of the House of Elendil (and Gondor's flag). At least, I think that's correct; by now everyone should realize that I know far more about Rohan and Mirkwood than any of the other locations on Middle Earth, lol. This can be found
here on Etsy
and
here on Artfire
.
The other cartilage earring I listed this week is this one:
Hey, look, another thing LotR-inspired. ;) This one was inspired by Fangorn Forest: the greens and browns represent the Ents and the trees, and the blue is for the rivers that flow through the forest (and Ent-draught, I suppose). Before I had a chance to blog this, it sold, so I only have it
listed on Artfire
right now. I'll be remaking this and a few other earrings this week, so it'll go back up on Etsy soon, too.
Hemp jewelry:

"Red and orange hemp bracelet or anklet - Summer Flame"
Only got this one bracelet listed this week, but I have a few more queued up. ;) You can find it
here on Etsy
and
here on Artfire
.
Drawing
This drawing is the only art I really finished this week (since I made the jewelry last week).
It's a sketch for my next costume; as soon as my sides start feeling better enough for me to work on art for myself, I'm going to start crocheting the tunic and sleeve. I largely drew this for myself so I wouldn't forget what I wanted to do, but I wanted to share it, too. :)
I'd love to make some of the leathery bits this summer, too, but I don't know if I'll have the money for those supplies; I may have to do something with what I already have. I'm planning on enlisting my fiancé to help with the armor and bow, but I think I can make a quiver myself. As for the boots, those depend on which
Order of the Stick
cosplay I'm going to be making first so they'll work for both costumes. If I make Haley, I'll get brown boots, if I make Kyrie, I'll get green. I'm leaning more towards Kyrie, so if I can find them, I'll probably get the green boots first. I've also been sorta planning out the Pit (from Smash Bros) costume I'd like to make and how I can do all these as cheaply as possible, but so they still look really nice.
If anyone has white angel wings, a white chef's apron, a long green wig, or a wood longbow (fake is preferable, I think) they want to get rid of (or know a good place to find them), let me know! ...yes, I realize what a weird group of items those are. ;)
Writing: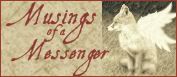 I didn't do a whole lot of new writing, but I did do some editing to my fantasy story and got the next part posted to
Cyn's blog
. My writing was much the same with my D&D game: I added more to the plot I had already started, but I'm waiting on the storyline to advance before I can write more.