Another small update, but I have been busy this week; the main thing I'm working on is a crochet project, but I unfortunately can't blog about that yet. Sorry for the tease. ;)
Here's what I can share, though:
Jewelry:
This "Messenger's Feather" cartilage chain earring was, not surprisingly considering the name, inspired by my writing muse: these are his colors and the feather and red bead represent the feather-embedded-in-amber pendant that all the priests of his order receive. I'm amused that this muse insists on giving me art, but I won't knock it since it means I actually work in warm colors. ;) (It can be found
here on Etsy
and
here on Artfire
.)
Geeky time! Yup, more dice, this time a bracelet/anklet in pretty pinks and purples. What can I say, dice are fun. ;) I really need to get my fiance to make me beads out of real dice, though, so I can use other multi-sided dice besides D6s. Anyway, this one can be found
here
and
here
.
Writing:
Other than the mystery crochet, this was largely what I worked on this week, between blogging and working on my fantasy story/ficlets. My dad, fiance, and I went geocaching again this weekend and had a
lot
of fun- you can see the photos I took and read all about the adventure
here
.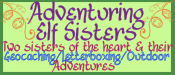 I've also been doing a lot of work on my story and updated that blog; I decided that in between the backstory, I'm going to have Cyneric answer prompts/questions about random subjects. This week I tried to embarrass him by
making him talk about love
, but I'm not really sure if it worked. ;)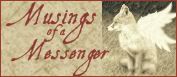 I'm having so much fun writing for this character because I get to come up with silly plots- right now I'm writing about the mischief he got into when he was younger while I wait for my fiance to draw up maps I need to finish the longer backstory (the downside of writing about a world he created). I know not many people are interested in reading random fiction, but hey, it gives me practice and I enjoy writing it, and that's really what matters. :)
That's it for this week- hopefully next week I'll have more art done to share. :) (Psst: art muse, you don't need to let the writing one take over all the time. I don't bite, I promise.)