My desk has been taken over by piles of works in progress and just-finished art this week. Who needs organization when you can have cuteness and shinies? ;)
Here's what said desk looks like at the moment:
My poor art muse plushie (the fairy in the back) is getting crowded out by the ones I've been working on; she's the only one who lives on my desk normally. That mostly-nekkid one is going to be a wrestler dude for my best friend (need to work on his hair and facial features).
The dark haired girl in purple is another present- my friend's D&D bard. Here's a closeup of her:
Still have to finish her harp and make her a sword.
And the two clerics in red are for myself- they're two of my writing/D&D characters. Here are some pictures of Raff, the elven Messenger. I made two different outfits for him because he spends as much time dressed as a ranger as he does a priest:
I already rambled about this doll
over on my writing blog
, so I'll just mention that I made that gittern (medieval guitar), quarterstaff, mouse, sword, and necklace pendant out of clay, crocheted him armor, robe, and belt, and had a
lot
of fun dirtying him up.
That character is the elven equivalent of Pigpen, so I got to design his robe to look frayed and then went crazy with painting dirt/grass stains and stitches on it. Here's a picture I took while I was working on it, so you can see what I mean: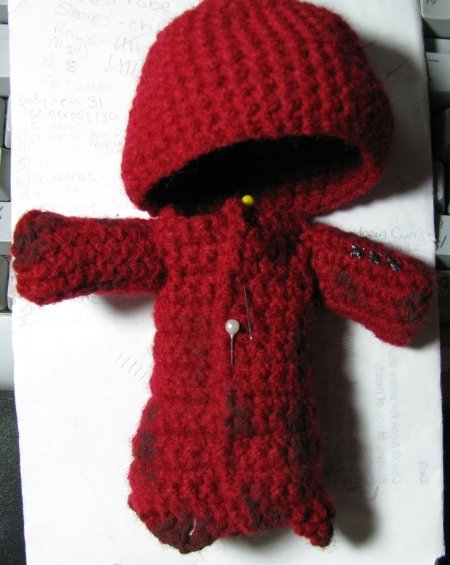 I also worked on a javelin quiver and fox for Cyneric, that other red-robed doll- I'd finished the doll itself a few years ago. Here's the quiver with the shield I'd made previously:
And here are the fox and mouse I sculpted. These are
tiny
; the mouse is 3/4" tall:
Moving on, here is the other heap of things that have taken over my desk this week- lots and lots of earrings:
I decided that as well as making cartilage chain earrings, I'm also going to make simple ear cuffs that are basically an earring dangle on a metal ear cuff. This is the first one I listed:

"Feathered Wing Ear Cuff" - on Etsy and Artfire.
Yeah, I'm not entirely happy with using a watermark, but after having a site steal one of my earring images last month (luckily they took it down), I'm going to start doing this at least to my earrings, but only to the flickr image. The watermark would be too distracting on the listing. I figure maybe it'll help some, even though a google search pulls up the listings as well as flickr. *shrugs* Only so much you can do when there are people like that out there who have no scruples.