I'll get to the candy in a minute. First I want to share this cartilage chain earring I made for an awesome customer; she contacted me about getting an earring made custom (which I love doing, by the way- if anyone ever wants me to make them something special, I'm your humble servant), and wanted it to be in red and blue and have a specific winged shield charm. This is based on an anime called "Brave Police J Decker" which I haven't seen, but luckily she sent along a picture and a sketch for me to work off of. She wasn't sure how I'd make the shield, but I told her I could probably do something at least close in polymer clay.
The chain and the top loop were the easy part. That charm part? Definitely difficult. After quite a few unsuccessful and rather frustrating tries, I handed this task over to my fiancé who is better with small fiddly clay things than I am (to give you an idea, I usually get him to sculpt the tiny clay weapons for my dolls), or possibly he just has better patience.
After a tag team effort, this was the final result:
Here's what we were working off of for the shield: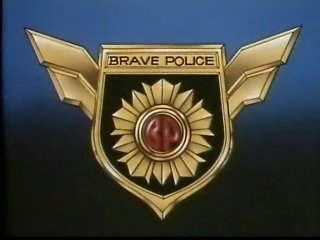 The charm still ended up larger that I'd wanted (it's 2" wide and 1" tall) but I think it came out pretty darn close. So yay! And luckily since it's polymer clay, it's really lightweight, so even though it's large, it isn't heavy. It's painted in acrylics and sealed with varnish- the silver loop above the charm is epoxied to the back.
How it is on the mannequin isn't actually how it's going to be worn, at least in terms of the top earring post; it's actually going on that hoop earring like on the non-mannequin photo. The silver loopy thing I have attached to that is large enough that she can wear it on a different earring if she likes, just by sliding it off.
So even though this took a long time to finish, I think it came out well, so I'm happy. :)
And want to know what makes me even happier? That awesome customer is also a baker/confectioner (that's the word for someone who makes sweet yummy food, right?) and she sent me homemade candy! Not a good picture, but here you can see it- which is good, because I've since eaten it all. ;)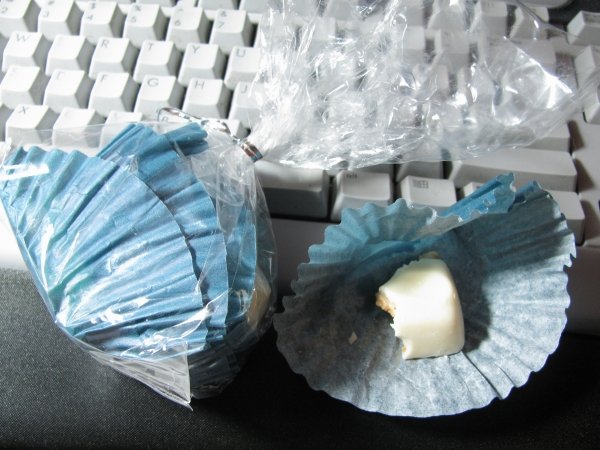 That had me so honored that she made me something- especially because I have weird dietary restrictions and she even made sure to get me something I could eat. When you can't eat a lot of things, trust me, that means a
lot
to you! It's the yummiest peanut butter and white chocolate thing I've ever tasted, too!
So I'm hoping she ends up loving the earring as much as I loved the candy. ;)