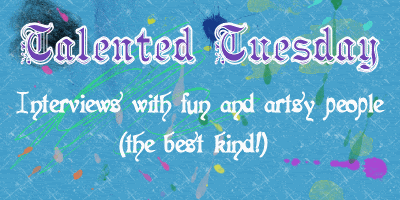 Time for another interview! This time I'm featuring Jannelle of
Something Else Studio
; she's a very very talented fantasy artist and one of my guildmates in the Artfire Fantasy Guild. I love her pouches/pockets so much and check out her crowns, too!
What's your name?
Jannelle Olmstead ~ Something Else Studio
Where can you be found on the internet? (Website, Twitter, Plurk, shops, blog, etc)
http://www.artfire.com/users/SomethingElseStudio
http://www.somethingelsestudio.com
http://SEStudio.etsy.com
http://www.facebook.com/SEStudio
Describe yourself in five words.
Creative .. Optimistic .. Focused .. Family .. Dreamer
If you were a color, what would you be?
I would vibrate somewhere between sky blue turquoise and deep earthy teal green :)
If you were a "Dungeons and Dragons"/fantasy character or creature, what would you be?
I enjoyed my elven thief character back in the day when I ha time to play. I liked to move stealthily in the shadows where I have the freedom to move unseen and go where I wanted to go and disappear when trouble showed up :)
If you could live anywhere (or anywhen), where/when would it be?
A beautiful little English cottage surrounded by flower gardens with cozy shady places to rest with a cup of tea and read.
What is your greatest dream or goal?
To have my own business and be a full time artisan. I'm grateful that I'm living my dreams right now which includes hard work, long hours and more bookkeeping and organizational skills then I ever imaged would go along with it!
What was your very first piece of art? How long have you been an artist?
I spent my childhood drawing, painting, sewing and crafting. My mother had boxes of cards, drawing and other childhood treasures I gifted to her until they had to downsize to just memories. I made a lot of my own paper dolls as a child. In Middle School and High School I took all the Art & Independent sewing classes I could. When my two sons were in High School I went back to college and got a BFA in Fine Art, one of my greatest accomplishments.
If you sell your art, how did you get started?
I decided to just jump in! I started with renaissance style headpieces and that lead into designing custom renaissance wedding gowns and that lead into renaissance festival accessories. I decided not to wait for a "perfect" product idea but jump in and be willing to evolve and see what worked.
What is the strangest thing you've ever made?
I don't know if it's strange but I was included with a group of artists invited to adorn the walls of The Springs Of Clifton. It's an alternative healing center located within a traditional hospital in Clifton Springs, NY. Each artist got a room to decorate and I was lucky enough to get the waiting room! I painted a large sprawling tree mural encircling several walls including a real branch near the ceiling where I hung 4 sparkling seasonal garlands.
Pick your favorite project/artwork- what is it and what inspired you on it?
When my oldest son decided to have a renaissance themed wedding I made them matching outfits and headpieces. I made the brides bouquet, bridesmaid garland and special family headpieces. I had so much fun that after the wedding I decided to launch a business doing custom renaissance wedding gowns and headpieces. I designed sample wedding gown for my runway models in bridal shows. It was a fun way to start! But after several years I decided I would rather design and sell accessories for renaissance festivals. So here I am today as an artisan doing renaissance, Faerie and Celtic festivals!
What kind of advice would you give to other artists?
Don't be afraid to fail. Try something... see work works. If it doesn't catch on move to the next grand idea as you improve and expand your artwork. You will be surprised at how many life skills will come into play to support your growing business. Whatever your dream you just have to BELIEVE in it and keep moving forward.
What is your favorite:
Color?
I adore all the jewel tone colors but a red burgundy somehow finds its way into most of my attire! I use it everywhere so it is one of my all time favorite colors.
Quote?
I have had this poster for 20 years and it's still hanging up on my office wall: "How high I aim, how much I see, how far I reach, depends on me"
Book?
I'm a bookaholic. I have a rooms full of books so it's hard to love just one! I enjoy my gardening books in the summer, cook books in the winter and a good mystery novel anytime, anywhere.
TV show and/or movie?
Lord Of The Rings trilogy movies
Season?
Autumn in all it's fabulous golden glory!!
Animal?
I'm an allergic Cataholic :( I would still have my beautiful cats if breathing was only optional. But it's not so now I live with my adorable little Cairn Terrier named Goblin :)
Art medium and/or supply?
I LOVE to paint on wood, walls and fabric. I adore all the great textures and colors of fibers and I love to weave art and fabric together to create magical items of wearable art.