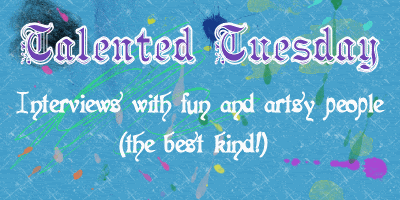 It's been over a year since I ran these interviews, so I figure it's time to get back into them, huh? I'm starting them up again by interviewing Kathleen, one of the super-talented members of the Artfire Fantasy Guild. And when I say "super-talented", I mean it; she makes amazingly detailed and intricate fantasy sculptures.
What's your name?
Hi, I'm Kathleen (Kathy) Summers. C. Kathleen Summers to those in the govt. or Artistic circles or C.K. Summers to the govt. offices with older systems (They can't seem to process a first initial. I've always wondered how J. Paul Getty or F. Lee Bailey managed it.) To many I'm Barcy or BarcyD short for Barcelona Divine, my handle when some 25 years ago I began stumbling around the cyber world. (LoL this is just the first query. "What's your name?" Perhaps you had best get a cup of coffee and settle in.)
oh yeah, the C. is for Carrie.
Where can you be found on the internet? (Website, Twitter, Plurk, shops, blog, etc)
I'm actually all over the place. I do have an always under construction website,
www.welcometomywhimsy.com
.
I have a blog,
www.ckathleensummers.blogspot.com
I have an ArtFire gallery,
www.welcometomywhimsy.artfire.com
an Etsy shop,
www.ckathleensumers.etsy.com
About this one, I misspelled my own name when I signed up and too late realized I couldn't change it. So I am C. Kathleen Sumers (note the one 'm') to etsyites.
I have a page on Epilogue and Deviant Art, a presence on NoBullART as well as FoundMyself.com. and FAEBAE's Enchanted OOAK. I still have a MySpace page, I think, and a twitter account and a Facebook page where I wonder lost most of the time. You can find me at mycraft.com and Creative Living, although I can't remember what that one's about. :0/ I was involved with ByHand.me and Winkelf but sadly those are gone now. I'm sure there are a few more out there I've completely forgotten about. You see, when new to the on-line art scene I rather bit off more than I could keep up with and still produce wonderful, whimsical, wares.
Describe yourself in five words.
Just five words? Are you kidding? Okay, then, I'll try to keep it to five.
Caring
Spiritual
Funny (at least that's what they tell me)
Gifted
Fat (hey, reality can be a bitch, but it's a big part of who I am. Ooooh did I just say that?)
If you were a color, what would you be?
I'd be a bright, glittery, sunshine yellow because I'm so shy. People wouldn't notice me for the glare. LoL
If you were a "Dungeons and Dragons"/fantasy character or creature, what would you be?
I would be a bright shining golden dragon collecting all the sparkly bits.
If you could live anywhere (or anywhen), where/when would it be?
Anywhen there's indoor plumbing. LoL I would like to live in the future. Oh, wait, I am!
What is your greatest dream or goal?
Truly? 1) It's to see people being able to see each other without the bigotry and preconceived notions of what they think others ought to be.
2) to see people stop hurting and punishing others for what they themselves feel uncomfortable or inferior or insecure about.
What was your very first piece of art? How long have you been an artist?
When I was but a wee lass my mother would help me cut and paste cards to send to those who were ill (or who had maybe sneezed that day) or who had birthdays, new babies, any excuse or occasion. I cut up old wrapping paper and Christmas cards and product wrappers. I loved the Northern T.P. babys. Still do actually. Then I discovered C L A Y!
If you sell your art, how did you get started?
It just happened. I made a little something, a pig in a picture hat, I think. Someone went "ooooh" and handed me some money and told their friends who also gave me money. I rather liked that. Positive reinforcement, you know.
What is the strangest thing you've ever made?
I would think my "Bone Worms" sculpture would be in contention but recently I was asked to make a frog about the size of a soft ball that looked like the singer Meatloaf.
Pick your favorite project/artwork- what is it and what inspired you on it?
My daughter, Charlotte, is my bestest piece of work and as to inspiration, lets just keep this a family blog.
Although of my other creations, without doubt my best would be my favorite gargoyle. I haven't a good name for him but he touches me deeply. I love his various textures and colors and his expression and posture. Everything about him is so evocative. Hmmm, much like Charlotte.
What kind of advice would you give to other artists?
Always try the new-to-you. Don't let your work get stale and stagnant. Push yourself, learn new techniques, try new approaches. If your mermaids look as though they swam full tilt into a coral reef don't give up. Keep trying. It's important to challenge ourselves.
What is your favorite:
Color?
Rainbow? It actually depends on the day but most of the time I lean toward earth tones, browns, beiges, tans. The color of the pages of weathered, stained, old books or dirt. You know dirt. Pale, dry and cracked or that dark, dark loam that's fresh and moist and healthy. Ahhhhh.
Quote?
"As long as you know you're green you grow. As long as you know you're green you grow and grow and grow. As long as you know you're green you grow but as soon as you think you're ripe you start to rot" Paul Sechrist
Book?
La Petite Prince
Character? (book or whatever)
I have several, but the one that comes to mind this morning is Slippery Jim DiGriz, The Stainless Steel Rat. I'm also rather enamored of Snake Plisken.
TV show and/or movie?
I love camaraderie like in Tango and Cash, Turner and Hooch, Starsky and Hutch. There has to be humor and snappy, clever. dialogue.
But my all time favorite movie, which has little of that, oddly enough, is "Savage is loose" with George C. Scott. In part it challenges the concept of taking things as right just because someone else, society for instance or a religion, tells us it is.
Season?
I am in love with the Autumn, all those earthy colors and smells and the breezes with just a hint of chill. But then there is the spring. . .
Food?
I never met a potato I didn't like.
Animal?
Love 'em all but a wire haired pointing griffin is wonderful. Remember the dog from the "Story Teller" series? He sat by the fireside with John Hurt. Love that dog.
Art medium and/or supply?
Polymer clay and Swarovski crystals, and glitter, and shimmery, shiny, glowing stuff. I'm such a magpie.