Sheesh, it's been about two months since I did an art update, hasn't it? I really need to remember to blog more often! Here's a quick post with the ear cuffs I've made recently as I try to get myself caught up.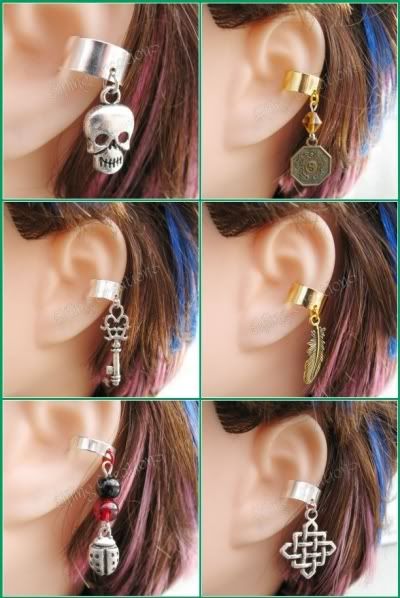 These are all for sale in my
Artfire shop
and my
Etsy shop
.
Clicking these links below will link you to the flickr pages where you can view the pictures larger:
1.
Silver Skull Ear Cuff
, 2.
Gold Coin Ear Cuff
, 3.
Silver Key Ear Cuff
, 4.
Gold Feather Ear Cuff
, 5.
Red and Black Ladybug Ear Cuff
, 6.
Silver Celtic Knot Ear Cuff
, 7.
Silver Dragonfly Ear Cuff
, 8.
Silver Snake Ear Cuff
, 9.
Silver Dagger Ear Cuff
, 10.
Silver and Brown Key Ear Cuff Earring
, 11.
Black and Silver Dice and Dragon Ear Cuff
, 12.
Ankh Cartilage Ear Cuff
, 13.
Purple and Silver Music Note Ear Cuff
, 14.
Black and Silver Dagger Ear Cuff