This art update isn't custom orders that I've made but custom orders that I
can
make. I know I don't have many people who read this blog, but if you happen to catch this post, it would be
awesome
if you could visit some of these links and tell me if the wording/descriptions in them make sense. I have so much trouble figuring out how to describe custom things! There's lots of virtual hugs, cookies, and fairy dust for any help anyone can give. :)
First up, custom dolls. I now have listings available for
four
different types! Hooray!
-
Custom Dungeons And Dragons RPG Character Doll
-
Custom Geeky Fandom Character Doll
-
Custom Fantasy Fairy Doll
-
Custom Mermaid Doll
The first two are my fully customizable dolls. That second one isn't limited to just fandom, though, even though I have it listed as video game, book, tv show, anime, etc- I can make a doll based on anyone. I'm still trying to figure out search tags for this one because it isn't a specific fandom that I'm working with and I'm afraid things like "video game character" and "book character" are too broad and people aren't going to be searching that way. If anyone reading this has any good ideas for how to make that listing easier to find, please let me know! :)
The last two are general fairy and mermaid dolls that I can adjust colors and the basic design. In this case I was having trouble wording the listing to explain the different options available. I'm really hoping they sound clear enough!
I'm actually going to be doing a few posts soon of custom dolls I haven't yet blogged about, so keep an eye out for photos.
~~~~~~~~~~~~~~~~~~~~
The other custom listings fall into my costume accessories category: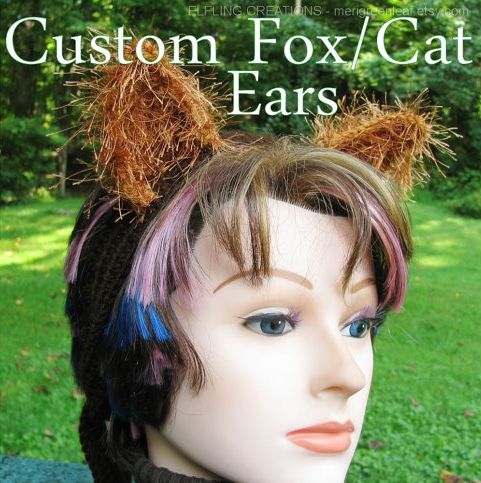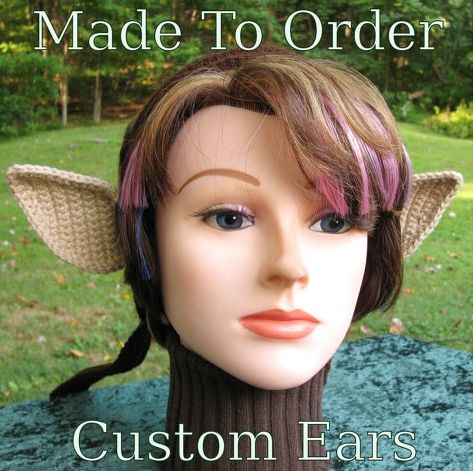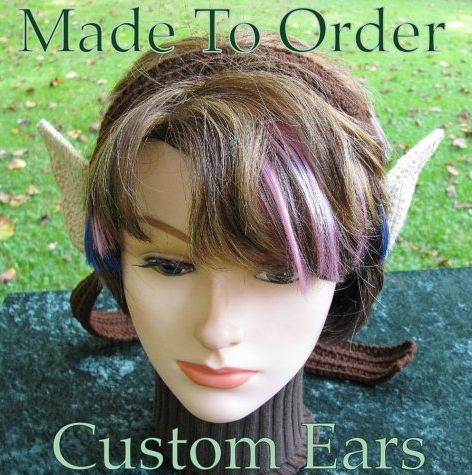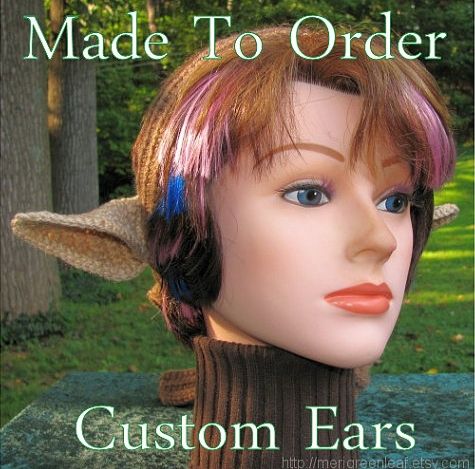 -
Custom Fairy Dragon Devil Horns
-
Custom Colored Cat Or Fox Ears
-
Custom Elf Goblin Fairy Costume Ears
(smaller elf ears)
-
Fantasy Hobbit, Halfling, Vulcan, Elf Costume Ears
-
Custom Faun, Satyr, Centaur Costume Ears
-
Custom Elf Fairy Yoda Costume Ears
(large elf ears)
I had a few of these listed, but I added drop down menus and new photos to hopefully make them easier to figure out. They're all different designs, hence why I linked to all of them. I actually came up with another style a few months ago for a custom order that's somewhere between faun and elf ears, so I'll add those to my shop once I have another pair made. I don't think I ever shared those here, so look for an update at some point with photos of the new ears.
Etsy's search is currently working a little wonkily, so your best bet for finding my elf ears on the site is to click these links. I also have some of these listed on
Artfire
, but I haven't had a chance yet to add them all or to update photos.
I know this is a really self-promotional post, but I've spent so much time this week fiddling with these listings and photos that I wanted to share them in order to justify the work. :) The next step is more crocheting so I can list ears in my shops that are ready-made, too, and not just custom. Yay, crochet!